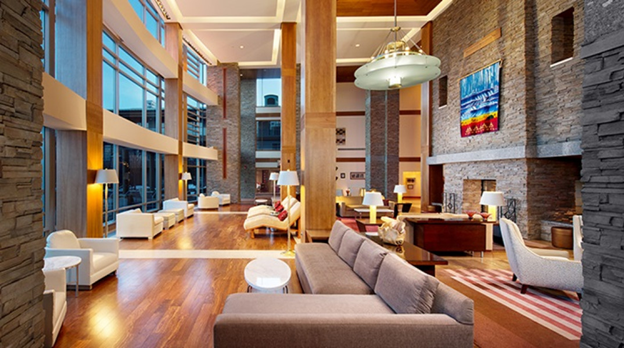 The WSOP Circuit coming to New York in 2022
The biggest poker brand in the USA, the World Series of Poker, is coming to New York's Turning Stone Resort and Casino. The WSOP Circuit – New York marks the first time ever that a New York location will be a satellite host for the prestigious poker event. The WSOP Circuit series will take place from March 17 to March 28. There will be 12 days of play for 15 rings. The hotel is already offering details on reduced tournament rates for hotel rooms as well as the schedule for its WSOP events.
You can go onto the Turning Stone Hotel website to seek out rates and look at the schedule breakdown. Or take a look below for our WSOP Circuit – New York Satellite listings.
Main Event Satellites
A $1,400 Main Event Satellite will happen at 12 pm Sunday, February 20 in the Poker Room. It will be a $1,400 Buy-In for 15K in Chips. There will be 25 Minute Levels. The result will see 1 in 10 players win a $10,000 seat, plus $3,000 in travel money to the 2022 WSOP Main Event in Las Vegas.
Satellite Events Happening Now
The satellite events are going on right now, actually, and will continue until March. Here are the different days and times of satellite events:
Dates: Monday, January 10 – Wednesday, March 16
Mondays, Tuesdays, and Wednesdays at 1 pm, 5 pm, and 8 pm
$100 Buy-In
1 in 5 players will win a $400 seat for Event #2 200K Guaranteed NLH or Event #9 100K Guaranteed Monster Stack NLH
Thursdays at 1 pm, 5 pm, and 8 pm
$140 Buy-In
1 in 5 players will win a $600 seat for Event #5 50K Guaranteed Black Chip Bounty NLH or Event #15 50K Guaranteed NLH
Fridays at 11 am, 3 pm, 7 pm, and 10 pm
$250 Buy-In
1 in 5 players will win a $1,100 seat to Event #11 50K Guaranteed NLH
Saturdays and Sundays at 11 am, 3 pm, 7 pm, and 10 pm
$200 Buy-In
1 in 10 players will win a $1,700 seat to Event #12 500K Guaranteed NLH Main Event
$175 satellites starting Monday, Jan. 10 thru Wed. Feb 16
Sundays at 2 pm
Mondays thru Wednesdays at 7 pm
$175 buy-in, 10K in Chips, 15min levels
1 in 10 players wins a $1,400 seat to our 2nd $1,400 WSOP Main Event Satellite on Sunday, Feb. 20th
Other Casino Events To Enjoy
If you do plan to spend time at Turning Stone for the WSOP Circuit, you can also take part in New York's now legalized sports betting. The state recently legalized sports betting for casinos and through apps.
Sports betting is becoming a phenomenon all over the US. The hobby, along with traditional casino games, is being legalized all over the country due to new betting laws. This has had the effect of opening gambling up to new populations. People in the States have been betting on sports for years, but it usually comes in illegal form through cash bets between friends. Now that it's accessible through legal channels like casinos, the number of participants and jackpots are higher.
New York betting is turning out to be huge, so the thrills and potential prizes are sure to be big. Fantasy sports is also taking off thanks to the new gambling laws–those who wanted to play but couldn't find a group now have their pick of leagues thanks to apps. The World Series of Poker will be the main attraction at the Turning Point casino for the next few weeks, but there's a lot the resort has to offer on top of the excitement around the big games.