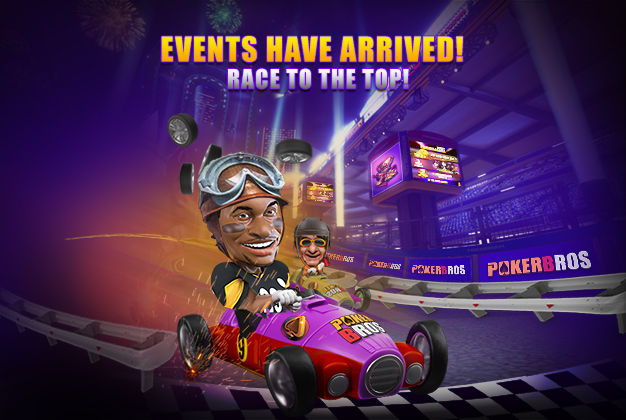 Welcome to "Events" – PokerBROS' Customizable Leaderboard Races
PokerBROS has just launched its latest innovation – Events – to add a little extra spice for Club members. The new feature was recently released for the Gold Lobby and is now available for Unionized Clubs.
The Events function allows administrators to create leaderboard races – with the ability to customize game types, race duration, and prize structure. So players can now take part in a variety of competitions – from two-hour turbo races, to month-long leaderboard contests – duking it out with their clubmates, and claiming their prizes.
There are three types of races that owners can set up for their clubs: "Winnings" events, which reward the most successful players; "Hands" events, for those who put in the most volume; and "Score" events, which award points based on a number of factors (such as results, VIP level, and fees contributed). Check out what kind of Events are available in your club and start playing today!
There is a nice additional feature – the Hall of Fame – where previous winners' names can be recorded for posterity – giving players an extra bit of kudos, and no doubt a few bragging rights over fellow club members.
Full details can be found on the PokerBROS Blog. Events are available now, so get involved and climb that leaderboard to the top!
You can download PokerBROS for free from Google Play or the App Store and Play your Way!
Follow PokerBROS on Twitter, Facebook and Instagram to keep up with all their latest news and offers.