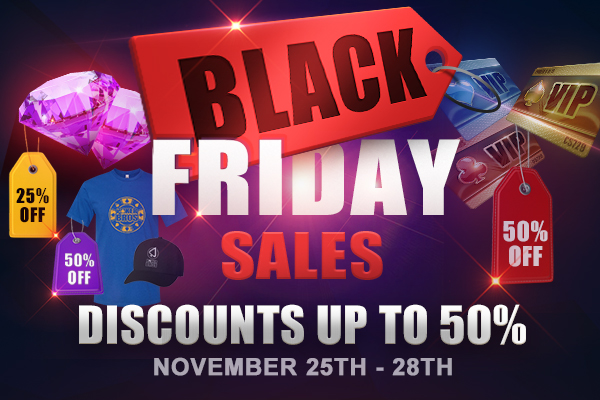 Twin Black Friday Sales on PokerBROS
PokerBROS is extending Black Friday bargains across the in-app Shop and merch Store this year, with online offers alongside half-price quality poker gear to wear IRL.
The PokerBROS Store is offering 50% off all merchandise from 07:00 CT November 25th until 23:59 CT November 28th – a leisurely approach to Black Friday that leaves plenty of time to browse hats, T-shirts and hoodies in colors, styles and sizes to suit everyone at the tables. Team BROS have recently been sporting various PokerBROS outfits from Texas to São Paulo via the WSOP, and everything is available with a Black Friday discount exclusively in the Store.
Meanwhile, the in-app Shop has knocked 50% off VIP Cards of all levels, providing an opportunity to try out the benefits and bonus features available to card-holders. Bronze, Silver and Gold VIP cards (each available for 30, 90 or 365 days) unlock special themes, grant bonus emojis, tags and time banks and increase the Club creation limit, with up to three extra Clubs available at Gold level. The Black Friday weekend represents an opportunity to expand and experiment with the wide range of features on offer for half the regular Diamond cost.
Diamond packages also have a Black Friday Sales tag: for Clubs of Level 3 and above (from November 1st or before), one Diamond package can be purchased with a bonus 25% extra Diamonds. Club owners and managers can boost their Clubs for the holiday season with free bonus Diamonds, giving even more flexibility to build and easily manage growing poker schools. Terms and Conditions apply for Diamond package bonuses; all details can be found on the PokerBROS blog.
Download PokerBROS for free from Google Play or the App Store and Play Your Way!
Follow us on Twitter, Facebook and Instagram for the latest news, competitions and giveaways.