Interview with Roy Houghton (Loose Cannon Club) Part 1/2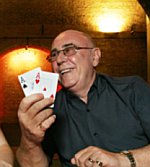 If you've been keeping up to speed with the poker scene in London you'll have heard Roy Houghton, for many years heavily involved with the game in and around the capital, is soon to be opening the Loose Cannon Club – a members only club in the centre of the city. We paid Roy a visit to find out some more details.
First off – The Loose Cannon Club – where did the name come from?
My wife thought of it. We were thinking about what to name it and I thought of three arches, she said, "It's under Cannon Street, why don't you call it the Loose Cannon?" Loose Cannon Sports Bar. She does come out with the odd gem. The club is now officially know as 'Loose Cannon Sports Bar and VC Players Lounge'.
How many players can you cater for?
The fire officer has given us permission to have up to 450 people in on a night. We can comfortably seat 250 tournament players.
What sort of cash games will you be spreading, and will they be dealer dealt?
A lot of city employees are asking about limit hold'em, we'll be spreading that along with no limit, pot limit, dealers choice, hi/lo, Omaha… Let me tell you a long time ago I had a beginners' night Friday night, and I started pushing a 2/4 Limit Game, got it going. Much to my amazement I used to get 3 tables on a Friday night, 2/4, then it suddenly leapt up to 3/6. Now I had that game, even the day we closed, Christmas 2002, when they closed that game was still going, every Friday night. Sometimes other nights, I think I used to have a £10 tournament on a Tuesday night, I'd have a couple of games on a Tuesday night, 3/6. When I first opened the card room at Russell Square, the guy that was the manager, Paul Blunt had had a very active card room in Nottingham so he was really pro-poker. I said I'm going to try a beginners' night. He said "no, it'll never work" but I said I'm going try it. For the first two or three weeks it was a disaster there was hardly anybody there, because you know, we'd just opened, we didn't have one poker player as a member. I was gradually building it up. This would be… 1997.
Before the boom…
Oh yeah. Eventually I started getting it going and once it took off, I found the beginners' nights, these £5 beginners' nights just went through the roof. I only, I think, if I used the hard gaming area, had a maximum of 8 tables down there. I was having rows every Friday night now, you know Rob would come down with his mates "Sorry Rob, full up" "Oh you are joking! We've come all the way from Dartford, put us in" And I was thinking oh I can't be doing with this, I know what I'll do I'll stick it up to a tenner, have ten pound tournaments. It made no difference, I was still having rows. The point I'm making is that from those five-pound and ten-pound tournaments I was getting two or three games of 3/6 hold'em every week, never failed.
I didn't even realise limit hold'em had ever been spread in the UK to be honest
Well no, no, this is what I argued. I've been saying it, well Joe will tell you, for the last 12 or 15 years now, I know it won't appeal to that lot [experienced UK players] "boys look I'm not talking about you because you've been born and raised on the pot limit and no limit game". When you get limit cash games, not limit tournaments, people can enjoy them though. If you have a really good run of cards, say at a 3/6 game, you might go home winning £200. But if you've had a bad run, what you gonna lose £60, £80? I'll tell you a little story here. When I first opened the Lindhurst club in St. John's Wood back in '89, again, you try and build the club up… One Saturday afternoon I've got 4 players, they've come in 2 o'clock Saturday afternoon. "Do you want to start 4 handed?" "No, we'll wait until another player comes in". An hour went by, 3 o'clock, what's going on? I said look, why don't you play a little limit game? "Ah no leave it out" "Just to kill time." I'm desperate to keep them there, I don't want them to go. "Ah no, don't worry about it". In the end they played a 4/8 limit game. Now it lasted, probably lasted about one and a quarter hours. Couple of players walk in and now we've got a game. One of the guys said to me "no more limit games". I asked why? He said, "I've done £480 playing that game." Later on I was chatting to him and asked him "Did you really do all that money?" "Well a bet's only 8 quid" I said "Mate, the odds don't change, whether it's limit or pot limit! The odds don't change!" Limit poker… I know you can't bet people out of a pot but the odds do not change.
What about tournaments? Will there be a regular schedule or are you going to be hosting just special events?
We will have tournaments but you know to be honest with you I think because of the fact that we're charging a membership fee, probably within a fairly short space of time, most of the games here are going to be cash games. We will run four major festivals a year, which I hope will provide serious value. It's a new room and I have got to establish what is right for the players.
So having said that there will be a healthy tournament schedule, but I keep seeing those full card rooms in Vegas playing mainly cash games.
Tournaments are very very popular though; you'll get people down to play tournaments then move on to cash games after.
I'm more interested in freeze outs than rebuy tournaments, £50, £100, and £250. The problem that I've got with the £250 Freeezeout or anything over £100 is that I've got to supply dealers for all tables. The players are going to have to understand that if they want dealers for all tables for what we're charging them as a membership fee they're going to have to pay £20/25 for a buffet and we'll hope that they use their loaves. Obviously I will provide dealers that's why I want to train up some staff, part timers, people who have a normal job but they want to work on a Friday for a tournament…. you know, get them to a good enough standard so that they can deal.
They're going to be coming down and working for tips, yes?
Yes they will be to be fair.
Dealers make a pretty decent wage just off tips though at places like Gutshot
I know that the top boys down at Gutshot easily can make a very good wage. I worked down there and I know what their tips will be. Let me put it this way, when I left Gutshot, John needed another manager. He asked every one of the dealers. They all went "No chance! What do I want to be a manager for? I'm earning more money than you are!" They never actually said that to him, they didn't wanna rub John's nose in it but they were, so what did they want to be a manager for?
So are you planning on having a regular tournament schedule?
Yeah I will do but basically until Christmas there will be what we call a registration period. I do realise that when you open up a club from scratch there's no point in me opening 7 nights a week. I'm going to get diluted. One thing I don't want is for just 20 players to come down each night. The outgoing company have got a lot of corporate events booked between now and Christmas, which is good revenue for us, very good revenue. So I can't give the poker players consistency until Christmas, something that poker players like. If I say to them well look we're open 7 days a week, except for, I think we've got 26 events booked between now and Christmas. Well that's a month written off from the poker players' point of view. So it's no good for me to say we're open Monday Tuesday closed Wednesday open Thursday closed Friday this week then we're open Monday Wednesday Friday Saturday next week. It's a nightmare. So what I'm going to propose to do is, as we've got no events on Sundays, Mondays or Tuesdays, is just open on Monday and Tuesday evenings. We're not charging. The poker players who come down here will not be paying a membership fee however to try and do this for a long period of time is going to be suicidal. So depending on the reaction it may be a fairly short period of time, could be two weeks, could be three weeks, before I say "Right, now we're open Sunday, Monday, Tuesday" But what we want now until December 31st is £40.
People will still have to be members to come down here though; they still have the 48-hour waiting period?
That's the curious thing about it, in the club constitution, which is all quite legal, we are allowed to take guests. For one night only, but if you wanted to join, you'd come down, fill out an application form and you can play that night funnily enough, as a guest. Only that one night, and it's totally within the law. You can't come in the following night, then the night after that, provided you come in the same time you came in the first night you're now a member, so it's only one night you miss actually
Handy
Yeah it is. And it's very handy for people who are on Joe's side, there are a couple of lads who live quite a way away from London. If they know that they can come, obviously we'll have a computer there that logs all your visitors. Now if Bill Bloggs from the Hendon Mob website lives 50 miles away comes in we say alright you can play as a guest because you live 50/60 miles away but if suddenly it's on the computer that his name's down that week, there and there and there, hold on a minute, you've gotta join.
Ok, important question now, what does the beer cost?
It's a standard price. I mean I know that we've had it on the websites it's going to be £5 a bottle. "Tom – how much does a bottle of Budweiser cost here? "£3, but the prices aren't really fixed yet." Our aim is to provide value, no prices are fixed yet but I guarantee there will be no complaints on that one.
Catman is posting information on our forum about the club. I guess he's involved in its promotion. Are you planning any erotic events a la the Paddy Power Strip Poker tournament?
No we've got no erotic events at all! Despite what Catman may say we are running a 100% legal operation there will be no adult entertainment here, I must stress that please! No pole dancing, no topless waitresses, nothing! Catman is a Consultant to the club, he has a great knowledge of poker and he has been behind some very powerful brands as well as running clubs for most of his life. We are pleased to have him working for us, even if he did suggest Poles on the poker tables.
You had a lot of success at Russell square, and you were manager of the Gutshot for, what, 17 months? Why did you leave?
16 months… well, let's just I was having differences of opinion. I hadn't been well and wasn't in the right frame of mind to work there. I had also seen this place and was looking to start up my own club.
---