Vegas Insider: 2008 December
The Five Diamond at the Bellagio started rather slowly with only 94 players in the first $5k event. The small fields paid off for a group of Russians, including Ivan Demidov and girlfriend Lika Gerasimova, backed by the same person. One forum poster suggested, tongue in cheek, that it was Roman Abramovich. Whoever it was backed one winner Evgeny Serebryakov and had multiple cashes.
The field sizes improved although many British players elected to stay in Europe. They missed the storm of the decade as Las Vegas enjoyed a full day of snow that closed the airport and all roads to California and Utah. I wasn't worried about being stranded at the Bellagio as I was sure they had a good supply of coffee and food and with Gavin Smith already eliminated the alcohol was sure to last at least one evening.
Not so lucky Liv Boeree who was due to fly back to England from LAX. It seems crazy not having a rail service to LA. As long as British Rail don't bid for the operation that is.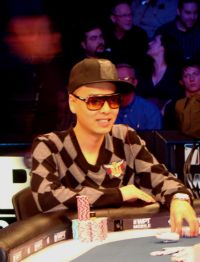 David Rheem "Chino"
The WSOP ME form was boosted when David Rheem "Chino" won the WPT ME, 497 played the $15k. Ivan Demidov the "real deal" and long time WSOP chip leader Dennis Phillips won brownie points for finding his way to the comped Bellagio buffet every evening at 9pm.
Writing of the "real deal", I have had a poll on my site all month asking readers to vote on how long the poker show at the Venetian would last. The longest time was three months and the shortest three weeks.
Since host Lacey Jones nearly burst into tears when I asked about ticket sales yesterday, I think the "rodeo month" in Vegas has killed off what was a nice little earner for Lacey and Kenna James. Lizzie Harrison left a secure position at CardPlayer to hand out prizes at the show.
Also leaving CardPlayer, cameraman Danny who has joined PokerBattle. I am not clear what it is but player Philippe Rouas has recruited the brothers Michael Mizrachi, Robert Mizrachi + Eric Mizrachi as well as Nenad Medic and David Rheem.
Matt Savage is the new TD of the LAPC at the Commerce. LA is beautiful in the winter, no smog and much milder evenings than Las Vegas. Matt wanted me to inform you that he has added two PLO events especially for the European players.
The LAPC runs from January 22nd to 2nd March with the PLO events on Sunday 8th + 15th of February. The 8th is a $1500, the 15th a $5k buy-in.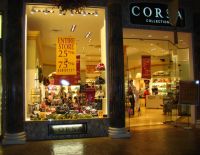 Pre-Christmas sales
I usually hide until after Christmas and buy my presents in the post Christmas sales. No need this year as many stores have pre Christmas sales.
Happy New Year to all readers.