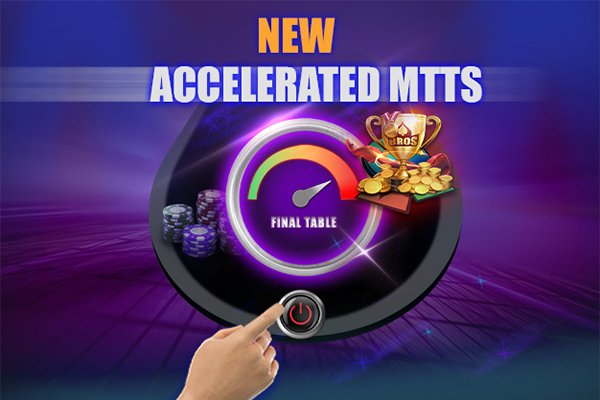 Sprint to the Bubble, Fight to the Finish with Accelerated MTTs on PokerBROS
Tournaments are a hugely popular form of online poker, with the glory of being the last player standing something every poker fan aspires to. But slow-structured tournaments can involve a big time investment; Accelerated MTTs (and Union-spanning XMTTs) are a fun, fast-paced alternative, that still leaves room for poker skill to shine.
How Do They Work?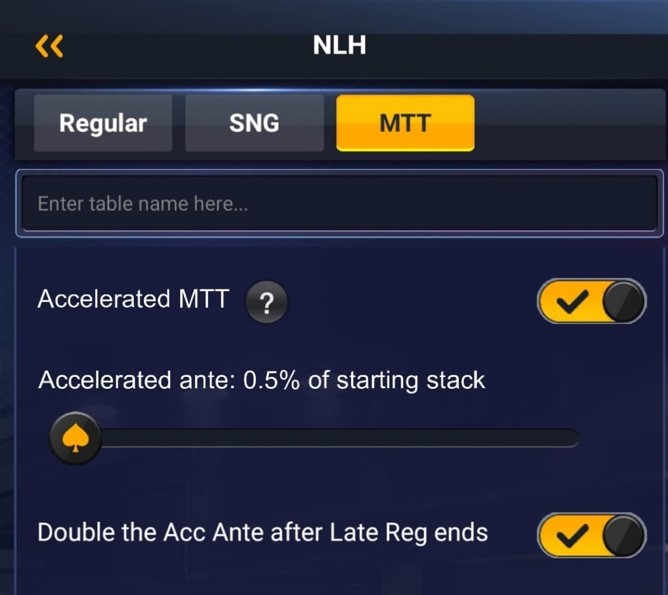 When setting up a multi-table tournament, switching on "Accelerated MTT" brings up the choice of how much boost to apply, in the form of antes posted by every player, every hand, until the bubble bursts.
The level of ante can be set anywhere from 0.5% to 5% of the starting stack (which is also up to the tournament creator). Players then post these chips automatically preflop to drive action right from the start, making every pot worth fighting for!
For example: With a starting stack of 5,000 and an Accelerated Ante at 2%, every player posts an ante of 100 each hand as well as their regular blinds (in turn, as normal). So, even with a standard blind structure (starting at 10/20), a full nine-handed table will have 930 chips to play for in every pot – as soon the tournament starts.
There's an optional extra: to nudge an Accelerated MTT even further into fast-forward once the late registration period ends. Switching on "Double the Acc Ante after Late Reg ends" doubles the Accelerated Ante at this point, condensing the time it takes to burst the bubble and enter the most crucial – and exciting – stage of a tournament.
After the bubble bursts, the Accelerated Ante disappears and those who've made it into the prize positions can fight to a winner without the extra stack pressure.
Although Accelerated MTTs perfectly bridge the gap between the light-speed All-In or Fold format and regular tournaments (without compromising on play at the deep end), they can be combined with All-in or Fold for a truly lightning-fast poker experience.
Whether Club members have minutes or hours to devote to trophy-hunting, PokerBROS now provides an MTT style to suit them. New Slow and HyperTurbo formats are also available; Accelerated MTTs are an option combining the best of both worlds.
Download PokerBROS for free from Google Play or the App Store and Play Your Way!
Follow PokerBROS on Twitter, Facebook and Instagram for the latest news, competitions and giveaways.