Ghosts at the Table Review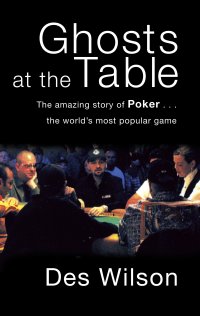 Ghosts at the Table by
Des Wilson
Buy the book from Amazon.co.uk
When I first started playing poker (in Nineteen-hundred and frozen to death) I was totally inspired by poker books. There were so few things written about the game and anything you could get your hands on would be totally devoured, read, analysed and reread.
My copy of The Biggest Game in Town by Al Alvarez could never be loaned out, even for a day, and much time was spent lurking around Foyles in the Charing Cross Road, pouring over the latest Sklansky and Malmuth offerings.
These days it's all obviously changed. The annual pilgrimage to The Gamblers' Book Store to load-up my luggage with extra weight, gave way to a bi-monthly trip to the excellent High Stakes on Great Ormond Street. Nowadays you can order so much stuff through the internet, often for the price of just a few frequent player points. With Internet forums, online videos, copious poker magazines and online articles, the arrival of a new tome isn't half as exciting as it used to be.
Last May however, there was an exception. Des Wilson's "Swimming with the Devilfish" had started life as a biography of Britain's most famous poker bad-boy and turned into a full-blown description of all the characters on the European circuit. I met Des early in its inception and was pleased to be able to give him some helpful background, as well as introducing him to a few of the players. I was very excited to read it immediately, and after naturally finding my name in the index and reading those bits, I polished it off in one sitting.
When Des told me he was writing another book I was keen to read it and some preview chapters of "Ghosts at the Table" arrived a few months ago.
It's a slight surprise that nobody has thought to write a history of poker before and Des was right to spot this as something that needed doing. I knew from talking to him that he felt it was important to do a thorough job and he's really started from the beginning and thoroughly researched everything.
The book starts in Deadwood where Des looks at the Dead Man's hand and Wild Bill Hickock. From there it's on to Tombstone and the old wild west with Wyatt Earp and Doc Holliday. There are some lovely quotes and stories of the riverboat gamblers and cheats in Mississippi and Des spent some time travelling to all the relevant places in order to attempt to garner information about a lot of stuff, some of which is probably just poker legend.
For me the book really got going when he went to Texas and met with TJ Cloutier, Doyle Brunson and Amarillo "Slim" Preston. Des is not afraid to ask some difficult questions about cheating, the sharing of bankrolls and "Slim's" recent legal problems. The chapters about the reality of the legendary game between Moss and The Greek, and about the disappearance of Hal Fowler are also excellent and certainly included plenty of details that were new to me.
The only disappointment to me was really the latter part of the book which looked at the more recent history of the game. The Stu Ungar story, the details of the Andy Beal games with The Corporation and the parts about online poker have probably been covered better elsewhere. I'd have liked to ask a lot more questions about recent poker gossip, but I can understand that it's a bit easier to throw some light on history after a respectful period of time has passed.
Aside from that minor criticism, the very last part, where Des describes his own 2007 Main Event, beautifully puts across his love and enthusiasm for the game in a way that comes out throughout this entertaining read.