Hand Replayer and Dedicated Hand Analysis Board
A few days ago we launched a forum section entirely dedicated to analysis of specific poker hands, complete with a our very own Mob hand converter and replayer for use with online hand histories, plus a feature that allows you to build a hand from scratch – perfect to set up replays if you want to show and discuss a hand from your home game or one you've seen on TV.
The converter, replayer and hand builder are all easy to use and there are step by step guides stickied at the top of the forum should have any problems.
The forum will allow us all to share our knowledge and improve our games, including discussion and debate over some of the more notorious hands that are played out in televised tournaments and cash games.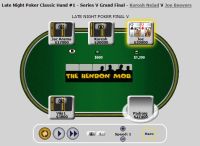 Hand Replayer.
Go to
the forum thread
to see it in action.
Right now we have Barny Boatman debating his play on the Poker Den show where he gets involved in a huge cash pot with live poker novice Bodo Sbrzesny. There's Joe Beevers discussing his Late Night Poker Series V Final hand where he's up against Padraig Parkinson, Viki Lincoln, Jac Arama and of course Korosh Nejad.
And Ram Vaswani gives his thoughts on how he managed to get his entire stack in with 5 high against Andy Black in the very first hand of Late Night Poker in 2008.
We hope all our users find the addition to the site both entertaining and a valuable tool for improving their game. Please read the the stickied board rules before posting though!