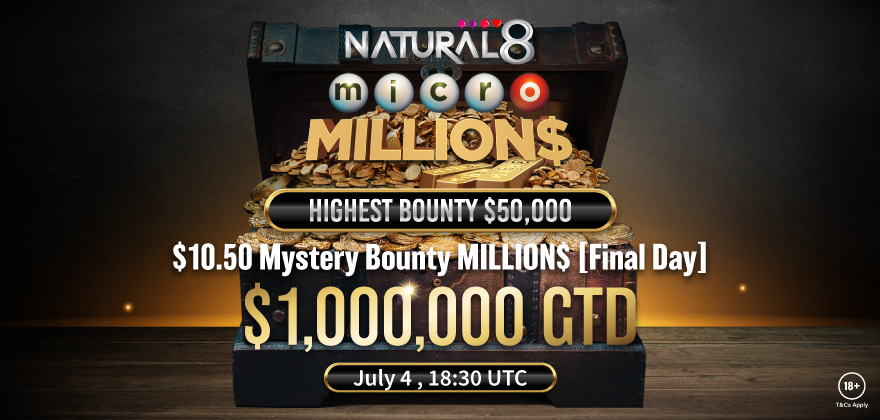 Micro Buy-ins, Millions in Returns! Mark Your Calendar This Fourth of July!
Ever since it started on 19th June, the inaugural microMILLION$ series has been receiving plenty of attention from online poker players everywhere due to its micro buy-in tournaments that come with high returns. To end the series with a bang, there will be a special $10.50 event with $1,000,000 GTD.
Highlight
Event: Mystery Bounty MILLION$ [Final Day]
Date: 4th July 2022
Buy-in: $10.50
GTD: $1,000,000
GTD Highest Bounty: $50,000
Satellites: Available on Tournament Lobby
Mystery Bounty is a new type of Bounty tournament that has been brought online recently. In many ways, it's similar to the popular Bounty Hunter tournaments. You knock out your opponents and collect their bounties. However, Mystery Bounty has different mechanics and requires different strategies.
There are two stages in a Mystery Bounty tournament: The Initial Stage and the Final Stage.
INITIAL STAGE
The Initial Stage of a Mystery Bounty tournament is just like any other tournament. However, at this stage, there will be no bounty payout. You must survive till Blind Level 18 in order to move to the Final Stage.
FINAL STAGE
With the opening ceremony of the Mystery Bounty, all players will be shown the total Mystery Bounty amount and breakdown for each of the bounties.
You'll receive a bounty for each player you knock out; you just won't know how much!
The "Mystery" Bounty
What makes Mystery Bounty popular despite the difficulty is the amount of the bounty. Each bounty amount remains a mystery until you receive it. But that's not the only exciting part. What makes it even more exciting, and popular, is that the bounty can be huge!
In the Mystery Bounty MILLION$, every player at the Final Stage will have a bounty on their head, and the more players you knock out, the more bounties you can collect. The largest single bounty is worth up to $50,000. This means that, if you are lucky enough, your first KO in the Final Stage might win you an immediate $50,000!
If you would like to know more about how to play in a Mystery Bounty tournament, check out this article from our Poker School.
Exclusive Natural8 Bonus for New Players
There is no better time to register for a Natural8 account than now. During the duration of the microMILLION$ series, Natural8 will also be offering a special signup bonus. In addition to its currently available signup bonuses, all new players who signup now will also get a FREE microMILLION$ ticket, which can be used as buy-in for either a microMILLION$ event of the same value or a satellite tournament .
All you have to do is just signup for a free account and get your account KYC verified. There is no need to make a deposit. Once your account has been verified, head on over to Natural8's 24/7 live support to claim your ticket.
Find out more about the microMILLION$ series here.
About Natural8
Natural8 is Asia's largest online poker room and geared towards recreational players. A skin on the reputable GGPoker Network, Natural8 is fully licensed and authorised. Anyone can join for free, and there are no hidden fees. On top of the $120 million guaranteed prize pool for tournaments every month, Natural8 also offers players extra incentives in the form of monthly promotions and cashback programs.
There are plenty of promotions available for players new to Natural8, including the $8 Instant Deposit Bonus (with a minimum deposit of $10) as well as the First Deposit Bonus – where players can choose between a 200% match bonus (up to $1,000) or $100 in instant rewards. New user specials on Natural8 amount to a total of $1,608 – easily one of the best in the online poker scene.