Massive Crackdown On Online Gambling In The US
Tens Of Thousands Of Homes Raided Across The States In Massive Online Gambling Crackdown
In a move which has shocked the online gaming fraternity, around 30,000 homes across the United States were last night raided by armed federal agents and thousands arrested for their alleged breach of the Interstate Wire Act of 1961 (Federal Wire Act). Reports suggest that anyone who was found logged onto an online gaming site was taken into custody, whilst others have had their computing equipment confiscated to be analysed by computer forensic experts at a later date. The raids occurred on Friday night, coinciding with one of the most popular times for online gamblers to try their luck at the virtual poker tables.
The move by the US government is sure to send shockwaves through the multi-billion dollar industry, largely based offshore and therefore not liable to pay taxes in the US, although estimates suggest that 80% of online gamblers are based in the States.
Billy Bob Davis of Iowa, known to his friends as 'Kevin' and pictured below, was charged and released but must appear in court later in the week. He said of his arrest "I couldn't believe it, some idiot had just busted me calling a 5x BB raise with 7,3 and hit a second pair on the turn to crack my black aces. I thought the beats couldn't get any worse then these 3 guys smashed down my door, arrested me and took away my computer! It was the worst time for it to happen, I had been losing all night so I knew I was due for a big win any moment. My girlfriend was hysterical, she was playing on her laptop and had just been reraised all in holding top set on the flop, then they stormed in, ripped the PC from her hands and threw it to the floor and just stood their laughing at her as she timed out."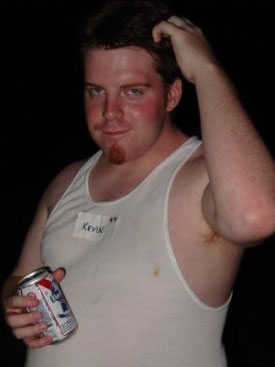 Davis
With US prisons already close to capacity, those suspected of an offence will be given the opportunity to avoid a custodial sentence. The government is recruiting thousands of agents to remain in the homes of those thought to have online gaming accounts, although only during the most problematic hours of 6pm-midnight, and during weekends, to ensure further breaches of the law do not occur.
Meanwhile, Congress is attempting to rush through legislation prohibiting ownership of 'any articles likely to be used for engaging in gambling over the Internet'. Although both Democrats and Republicans alike have voiced serious concerns about the Bill, one Congressman calling it 'unworkable and unenforceable' it is expected to be passed into law later in the month. Under the Bill ownership of more than 1 monitor per household will require a licence, the provisions for acquiring one significantly stricter than those to obtain a handgun in most States. Dell 2001FPs will be banned outright. Civil liberty groups are outraged at the move.
The crackdown hasn't just hit the punters, Anurag Dikshit, Chief Executive Officer of popular online site Party Poker, saw the value of his 32% holding in the company slashed by 80% in the hours following the raids.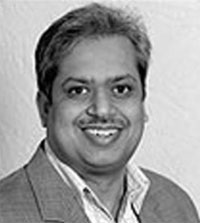 Dikshit
The company had gone public on the London Stock Exchange in 2005 and, after a shaky start, its share price had been steadily increasing up until the events of yesterday. Speaking of the Exchange, "It's f***ing rigged" he claimed "it was my first flotation, they let me win a while so I thought it was easy money, then last week I cashed out some shares and this happens. Everyone knows about the doom switch, everyone, the whole thing's a f***ing con." He has since bought up a further 40% in the company in the hope of a quick turnaround in its fortunes.
Even more serious repercussions are also possible. Although many players were caught red handed in the raids, the majority were not gambling when they were arrested. With admissible evidence hard to come by, the US government has demanded Neteller, the online bank used by many poker players to fund their habit, release details of all transactions carried out by American citizens over the past 5 years. Neteller has refused, claiming there is no legal requirement for them to breach their clients' confidentiality in this manner. The Calgary based company has received backing from the Canadian government and the US are already pulling troops back from operations in Iraq and Afghanistan in preparation for possible military action against their northern neighbours. At an emergency press conference called early this morning, President Bush stated "We cannot rule out the use of nuclear weapons at this stage".