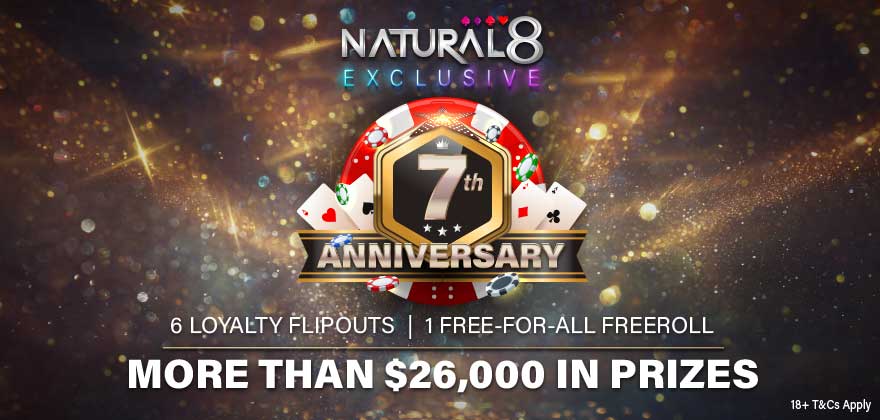 Happy 7th Birthday to Natural8!
Thanks to the support of our players and partners, Natural8 is now 7 years old, and there's nothing that we want more than to celebrate such a joyous occasion with you! After all, you are the important piece that made Natural8 what it is today.
Over the last 7 years, Natural8 has been growing rapidly. In 2022 alone, we were able to roll out new jackpots, such as the Bounty Jackpot and the Bad Beat Jackpot, and new features such as Ask Fedor, Bet on Flop, EV Cashout, and NFT Avatars, as well as new game variants such as the Mystery Bounty, where you can win up to seven-figure just by knocking one player out.
Along the way, with your undying trust and support, we managed to obtain partnerships with world-famous poker tournament series such as the World Series of Poker (WSOP), the Asian Poker Tour (APT), Battle of Malta (BoM), and these are just to name a few!
So, to show our utmost appreciation, we would like to invite YOU to join our 7th Anniversary celebration. From 5th to 7th January 2023, we will be running 6 Loyalty Flipouts and a Birthday Freeroll, with prizes worth more than $26,000 in total.
Highlights
5th January 2023 – Loyalty Flipouts
7th January 2023 – Birthday Freeroll
Since this is our 7th anniversary, we will be giving out $7,777 in the guaranteed prize pool for the Birthday Freeroll. To add more cherries on the cake, there will be 20 Natural8 ambassadors who will be playing with you, and these ambassadors will be carrying a $77 bounty on their heads. Every time you knock one of them out, you will be able to get the bounty and bragging rights.
The 7th Anniversary Birthday Freeroll is open to everyone, including new Natural8 players, so if you haven't joined us yet, you can still participate in the Birthday Freeroll by registering for a free account now.
Please visit Natural8's 7th Anniversary page to find out more about the party.
About Natural8
Natural8 is Asia's largest online poker room and geared towards recreational players. A skin on the reputable GGPoker Network, Natural8 is fully licensed and authorised. Anyone can join for free, and there are no hidden fees.
On top of the $120 million guaranteed prize pool for tournaments every month, Natural8 also offers plenty of promotions for new players. These specials amount to a total of $1,858 – easily one of the best in the online poker scene – and include: