Put Your Money Where Your Mouth Is
The least impressive piece of mind reading I ever saw involved Uri Geller. Back in 1995, the Israeli spoon-bender was taking part in a TV show in which he was challenged to help Reading FC win the Coca Cola Cup. Essentially, this involved him directing "positive energies" onto the pitch and making amazing predictions about what would happen next during games. When Reading faced Southampton in an early tie, the Saints were awarded a dangerous free kick on the edge of the Reading penalty box. Closing his eyes and massaging his temples as thought deep in paranormal thought, Geller looked up just in time to see the ball curl into the top right corner.
"Le Tissier!" he shouted triumphantly, pumping his fist. "I KNEW the free kick would be taken by Le Tissier!"
Well, now this revelation has a contender in the "no shit, Sherlock" stakes. When I penned my first article about women's football for the Mob website, I reckoned it was a racing certainty that someone would be crass enough to, a) call the girls ugly, and b) post that video of Andy Gray and Richard Keys laughing at female players.
Sure enough, both topics were soon raised on the Forum. In the video, Gray and Keys snicker away like naughty schoolboys, amused by the very idea of women trying to play a man's game. Well, we all know where their sexism got them later, and in my book it was good riddance to a couple of ignorant Neanderthal di*kheads. No doubt, it also reminded many of you how women poker players were viewed not so long ago. No-hopers, too meek and passive to win anything, there just to look cute and bump up the TV viewing figures… Yeh? Well how many of you would like to swap bankrolls with Sandra Naujoks, Annette Obrestad, Vicky Coren, or Liv Boeree?
Less gallant was the suggestion on the Forum that the girls were a bit porky. This was posted by somebody called Evelyn, who may be a man or a woman. It doesn't matter. I'll admit that the Battersea Ironsides shirts are not very flattering, but then again they were designed for rainy winter days on Wandsworth Common, not the catwalk in Milan. (Incidentally, as part of the Mob's sponsorship deal, I also had shirts made for Ram, Joe, Ross and Barny, and I'm sure their famously slender physiques are done scant justice by the baggy nylon fabric. They probably look like a Tango advert.) But for anyone in poker to criticize another sportsperson for being overweight is so ludicrous as to defy belief. Evelyn, have you SEEN the people squashed into chairs from the Bike to the Barracuda? For pure tonnage and blubber, the average cardroom could match the hold of a Japanese whaling fleet. For every Patrik Antonius, there are dozens of terminal fatties. Compile your own top ten: Jimmy Fricke? Greg Raymer? Even my dear old chum Robert Williamson III has an appetite so gargantuan that it required a gastric band to control.
Anyway, I consider these comments to be a slur on my ladies and their sponsors, the Hendon Mob. Honour must be satisfied, and if I had a gauntlet, as opposed to the blue woolly mittens my mum gave me for Christmas, I can assure you that you'd be feeling its sting on your cheek right now. To settle things, I suggest a prop bet. Evelyn and Nem, I challenge you to a simple game of Keepy Uppy. You, in the Fox Club, against our midfielder Tara (see profile below). Three goes each, with the best combined total winning the loot. Man up and put your money where your mouth is. A date will be arranged by Barny, and some healthy side action is to be expected.
That's my rant over. Next week, I promise to get back to football matters, as the team close in on the Greater London League title, proud to wear on their chests the suspiciously slender silhouettes of the Mob…
Player Profile Number 2: Tara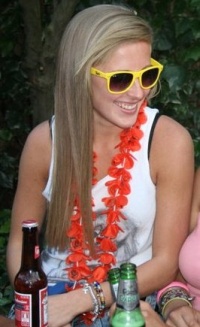 Tara
Whether it's on the baize or the grass, great players never panic, and Tara keeps her cool when all seems lost. A couple of seasons ago, she scored twice in the last three minutes to rescue an unlikely draw against Tottenham Hotspur Reserves, and she is the team's "go to girl" for penalties and free kicks. This season, she has notched up 21 goals in 17 games. Not bad for a centre midfielder…
| | |
| --- | --- |
| Name | Tara Dyerson |
| Nickname | T |
| Born in | Roehampton, London |
| Likes | Sports, art, my pussy (cat Kiki :D), kicks, famo and friends |
| Dislikes | Moths, ladybirds, butterflies, rain |
| Tipple | Fosters |
| Supports | Chelsea |
| Favourite player | Ronaldinho |