Football Manager
Abramovich, al Fayed, the Glazers. Let's face it, you're nobody these days unless you own a club in the Premiership. And now the Hendon Mob have taken their rightful place at football's top table.
Well, almost. To be honest, this deal wasn't signed in a trophy-filled boardroom or on a luxurious yacht, and the team who proudly wear the Mob's logo play on a soggy field in south London rather than an all-seater stadium. But, on the plus side, it only cost Barny £500, and the players are all female.
Let me explain how it came about. A few years ago I was suffering from a mid-life crisis. I was too old to carry on writing my sex column for FHM, and – as anyone who has heard my TV commentary will attest – I didn't know enough about poker to make a living from that. So for months I did nothing except mooch around my house in a dressing gown, watching "Homes Under the Hammer" and considering suicide. Then a friend suggested that I find a hobby, and recommended the gumtree website. So I browsed through the postings, looking for something that might help me kill time. Archery lessons? Cheese-making? Bell-ringing? And then I saw it – a women's football team in my area were looking for a manager.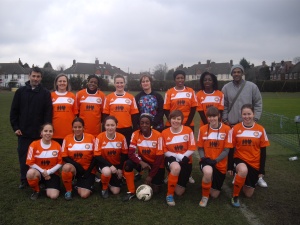 The Ironsides
Make no mistake, I have always been crap at football, relying more on thuggish aggression than silky skills. (My favourite players of all time are Graham Roberts and Claudio Gentile.) But surely, I reasoned, I'd be able to hold my own with a bunch of girls. As I emailed my reply to the ad, I could already picture myself like Brian Glover in Kes, dribbling through a crowd of wispy blondes in short skirts and scoring a 30 yard screamer.
That fantasy lasted about two minutes. At my first training session with Battersea & Wandsworth Women's FC, they murdered me. A mixture of girls from tough housing estates and sporty Swedes and Kiwis, they were far more gifted than me. As for fitness, those months of indolence and Jaffa Cakes on my sofa had done me no favours. I was soon red-faced and coughing on the floor. They certainly lived up to their nickname – The Ironsides.
Luckily, years of bellowing at the TV and lambasting the England manager's tactics meant that I could at least talk a good game. I watched them train for a few weeks then made some tactical adjustments. At their first match of the season, I strode along the touchline shouting encouragements and made a lucky substitution that saw them edge a close game. I was in!
Looking at the fixture list, I discovered the great thing about women's football. Even though I was a beginner in the dugout, my team could easily be facing sides I'd actually heard of, like West Ham, Fulham, Wimbledon, and even my own team, Tottenham Hotspur. It was the football equivalent of the magic wardrobe that leads to Narnia – I jumped into a place where I could live out all my teenage dreams of glory.
Naturally, my friends assumed I was just doing it so I could sneak into the changing room after matches. "I bet you jump in the big bath with them… I expect you make sure they swap shirts at the final whistle… does the one with the biggest tits get to take the penalties… " I heard them all. But, in fact, that couldn't be further from the truth. I was so impressed by their determination and love for the game that a switch in my libido seemed to be turned off. And being with them has even affected how I stare at women drinking in bars or sunbathing in the park. "Are those footballer's legs?" I find myself asking when I see some muscled calves. Or, "Hmm, she's tall, I wonder if she fancies being a goalie."
Anyway, over the last few years, I've been living life like a John Candy movie. Together with co-manager Marvin, I've seen the team climb up through the divisions and they are now within sniffing distance of winning the Greater London title. There are still a few more levels to go up after that until we face the Arsenals and Chelseas of this world in the national premiership, but it's all moving in the right direction.
The Mob have helped. When I cornered Barny at last year's Aussie Millions, he generously agreed to help out by sponsoring the shirts. He's asked me to write an occasional blog on the Mob site to keep you all updated on their progress. Over the weeks, I'll explain the various intricacies of the women's game, introduce you to our players, and post a few photos. They may even be some betting opportunities.
And if any of you fancy getting involved, either as fans, coaches or sponsors for our Reserves team, then get in touch. I'm on [email protected]. A warm welcome awaits any supporters.
You can check our team website and the league tables can be viewed here.
Player Profile Number 1: Josefin.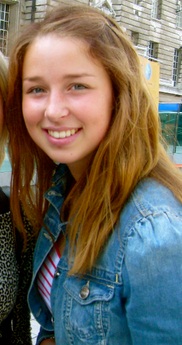 Josefin
Just as in poker, some of the best players in women's football come from Scandinavia. Josefin is a Swede who works as a nanny in Barnes. She's a right winger with nifty feet and a beautiful range of passing. Always keeps calm, even when the manager is moaning like Mike Matusow after a bad beat. She has scored 9 goals this season.
| | |
| --- | --- |
| Nickname | Jo |
| Born in | Gotland, Sweden |
| Likes | Chocolate, Friends (TV-show), traveling |
| Dislikes | Early mornings, spiders |
| Tipple | Cider |
| Claim to fame | Once nominated as the best midfielder in Gotland |
| Supports | Liverpool |
| Favourite player | Fernando Torres |