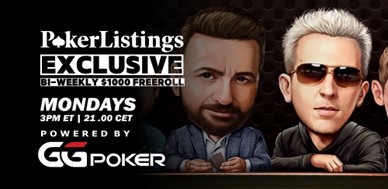 GGPoker Freerolls, Euro Live Event Action & WPT Global's Spring Series
There's some free money for poker grinders and fun recreational to grab on GGPoker courtesy of PokerListings, as well as a massive update on Juicy Stakes Poker that might not seem world-shaking but is particularly pleasant for online poker grinders. As we build up to the biggest time on the poker calendar, WPT Global runs a huge spring series that will compete with the best.
Boost Your Bankroll Through the PokerListings $1,000 GTD GGPoker Freerolls
Freerolls have widely been known to be one of the best possible ways to grow your bankroll and climb your way up the poker ladder, or if you're a beginner, they are a great place to have fun and learn the game.
If you've never been able to enter the GGPoker streets, you can now, courtesy of PokerListings. They have partnered with GGPoker to hold a bi-weekly exclusive PokerListings $1,000 freeroll, giving online poker players of all backgrounds a chance to have fun and grow their poker bankroll.
Online poker freerolls are risk-free for both collectives, allowing online poker fans to play on new software and enjoy the poker operators at the top of the industry. One of those operators is GGPoker, which has battled for the online poker throne that PokerStars dominated for several years.
How to Play in the PokerListings $1,000 GGPoker Freerolls
You can find the PokerListings freeroll on the GGPoker client; here are the key details:
Bi-weekly on Monday at 3 pm ET/9 pm CET
Registration opens 1 hour before the start
200BB starting stack
Password: onechippoker
Prize pool: $1,000 GTD
Tips on How To Crush Poker Freerolls
Tight and Aggressive: A big mistake beginners and newbies to freerolls make is taking a "bingo" approach to poker, playing too wide a range, and being too passive to see flops. The more people in the pot, the less equity your hand has (chances of making the best hand) – this goes from your favorite hand of 6h5h to AA. Keep your range tight and play your premiums aggressively.
Punish Limpers: When people open-limp, you can isolate an almost guaranteed weak holding with your medium-to-strong hands. Raise them, isolate them, and then battle post-flop. If you find yourself in the amusing situation of getting limp-raised, just fold – they always have Aces!
Put Pressure on Opponents: This tip is most appropriate deeper in the tournament, especially around the bubble or deeper towards the final table. Have some 3-bet bluffs in the bank, and put their tournament life on the line when you bluff. The splashy nature of a freeroll will dry up once money is at stake!
PokerListings has one of the most extensive poker strategy article collections in the world, offering experience-based knowledge from the past 20 years the site has been online.
Spin Your Freeroll Winnings on GGPoker
There's no better poker site to spin up your new-found bankroll than GGPoker, especially during the current World Festival Series. You can turn your PokerListings freeroll winnings into a seat for the $2.50 buy-in Mega Sattelite to the World Festival Millions $1,000,000 GTD – now that would be quite the spin-up.
Olybet & partypoker Bringing Huge Tournaments to Europe
There's some major European tournament action coming, with some huge events and guarantees all over the continent. Whether it is Malta, Estonia, Ireland, and beyond, you can find prime opportunities for poker players and fans to play in some amazing tournament series.
Olybet is hosting their immensely popular Kings of Tallinn in Tallinn, Estonia, at the Casino Olympic from July 21 to July 30 this year, with over 50 tournaments on the schedule and juicy cash games running all day and night.
Why should you hop on a short flight and fire this tournament series? The Tallinn Hilton Park Hotel is one of the most comfortable and luxurious stays you can find for a series like this, with reasonable rates accompanied by spa access, breakfasts, and more. The events range from a €1,100 Main Event to a €150 PLO event and a €250 Mystery Bounty.
As well as Olybet bringing great poker action to Europe, partypokerLIVE is back with three 2023 events. There will be three €1 million guaranteed tournament series in Bratislava, at the Juli Card Casino, in Malta at the Portamaso Casino, and at a to-be-confirmed poker room in Ireland.
PokerListings will be on-site for all these tournament series, giving you on-the-ground updates for all the poker action at all these exciting events. – we hope to see you there! You can join us through online qualifiers, which starts on Monday on partypoker, allowing you to get a seat at these events for a tiny investment.
WPT Global's Spring Festival is The Perfect Series Warm Up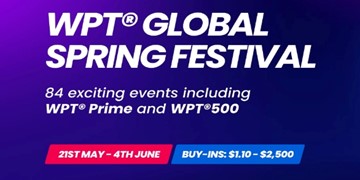 It's widely known across the poker world that the summer to autumn period is the crunch for online and live poker. The biggest online and live series happen then, with players ascending and descending down the poker ladder depending on how they run in the biggest spots. Accolades, awards, and trophies are up for grabs, as are bragging rights that poker players can hold for a lifetime.
There is no better way to start this competitive poker period than the WPT Globals' Spring Festival, which runs from May 21 to June 4 and has 84 events for players to fire up and run up a juicy bankroll in poker's biggest period.
You can find events ranging from $1.10 to a $2,500 High Roller, and if you're a fan of multiple poker variants, you can find those two – there's No-Limit Texas Hold'em, Pot-Limit Omaha and event Short Deck tournaments on offer.
The biggest and most notable event in the schedule is the WPT Prime $1,060 Championship event, which has 10 different Day 1 flights before the Day 2 finale, with $200,000 to be scooped up in this event. The WPT Global Spring Festival is not to be missed!
Juicy Stakes Poker is For The Poker Player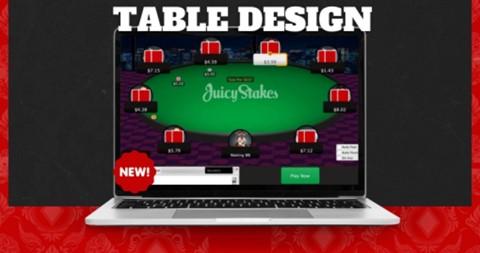 We love it when a poker operator makes a move to improve the online poker experience. And especially so when it's for the grinder, someone who loves the game and plays whenever they can. Juicy Stakes Poker has done precisely this with a recent update.
Nothing is more annoying than playing online cash or an MTT and working out your Big Blinds like a live poker event. Thankfully, Juicy Stakes updated poker software has made it so you can automatically see your stack in BB instead of the chip value – this might not seem big but it is huge for online poker grinders. You can put your calculator away now!
You can go to Options, Graphics, and then click the option to show chips as big blinds for tournaments and cash games. It's easy, helpful, and significant in making the poker site more friendly for online grinders.