Ghosts at the Table: Excerpt 3/4
Extract three from Des Wilson's 'Ghosts at the Table – the amazing story of poker' published by Mainstream on October 4.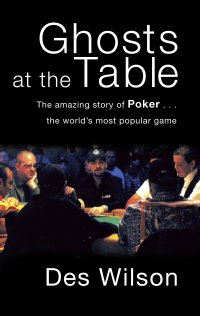 Ghosts at the Table
One of the more enjoyable hours I spent while researching this book was listening to Mike Sexton describing to me one of the most famous poker-golf games ever, involving Doyle Brunson and himself, and former poker champion Huck Seed and the "professor of poker", Howard Lederer.
"Somehow they talk Doyle into a game. He hasn't played for a couple of years and I haven't played for a couple of years, and they are playing all the time, but they persuade him to play in a game that could cost $100,000 if it's lost. Somehow he suckered me into being his partner. Doyle says to me that he has forgotten more about golf than they will ever know, but as far as I'm concerned the only good news is that they will play from the back tees and we will play from the ladies' tees.
"So the day after they make the bet they bump into Doyle in the poker room and they're joking about how he has no chance. Well, Doyle being Doyle, he says 'ok, if that's what you think, we'll double the bet.' So now we can lose $200,000.
"He and I decide we'll have a round and find out what we can score. Now the game is to be a scramble where we each hit a drive and then play the best ball from there on, and in this round we hit 76 and Doyle is upset. He figures we're going to get beat bad. He tells me ' we have to find a way to get out of this bet.' I tell him I will improve, but, no, he wants to get out of the bet, so now he finds them and tells them his knee is giving him trouble and he doesn't think he can play. Well, of course they say he's just running away from the bet…well, Doyle is Doyle, and he says to them 'well if that's what you think, we'll double the bet again.' So now we can lose $400,000.
"So I say to Doyle, look, I think I should fly down to Florida and put in a couple of weeks of golf with my friend Harold Henning before we play this. So I do that and when I come back someone sees me play and tells Doyle that I'm playing well and that these guys have no chance. So what does Doyle do ? He goes back to Howard and Huck and he doubles the bet again…now we're playing in a match that could cost us $800,000 – for one round of golf.
"Everyone is now talking about this game and half the poker world comes out to watch. We're followed everywhere by about 50 golf carts. Well, we're two up after five and Doyle is telling them they don't know how to play and everyone is loving it and Howard and Huck are looking more and more tight-lipped. By the fifteenth hole it's all-even and that's a real easy hole but we both miss the green with our drives and bogey it and they're now one up and now Doyle is in a state. We come to the 16th and we're all over the place…I hit a wood and it looks like its headed for the pin but it hits a bank and falls into the water. Doyle blows his shot it completely and I then put it 50 feet from the hole. The putt is near impossible – not just 50 feet but with a break of about 10 feet. It looks like it's all over, but you have to understand that it's in positions like this that Doyle becomes unplayable. He hits this putt and when it's still 15 feet away he's shouting 'it's in, it's in'…and it was. An unbelievable putt. Well the guys on the golf carts, a lot of whom had money on the game, go wild.
"We're still only even but Howard and Huck are broken. They lost both the last two holes and Doyle, whose bet it was, wins what I think is the biggest bet there's ever been on one game of golf."