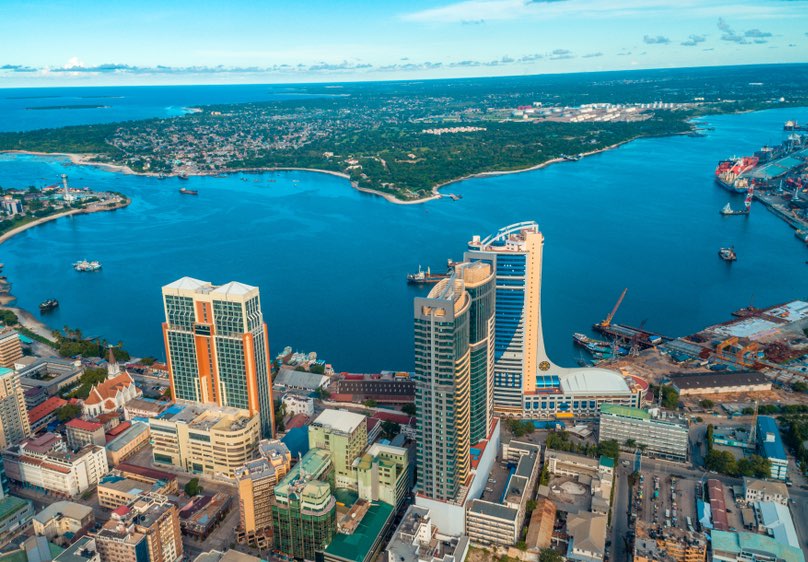 Dar Poker Masters
In 2021, the DAR Poker Masters in Tanzania became East Africa's largest poker event. The staff at Le Grande & Palm Beach Casino plan to make the 2022 edition even better. This year's Dar Poker Masters offers a full week of poker that will run from August 22 to 28.
Dar-es-Salaam in Tanzania is the fastest developing city in East Africa and Le Grande & Palm Beach Casino aims to be the center for gaming action. The 2022 Dar Poker Masters features five events over seven days. The headline event is the three-day Tzs 500,000 ($210) Main Event kicking off on August 26. Players start with 100 big blinds and 40-min levels. Optional rebuys and add-ons are available. The eventual champion will also take home a gold bracelet worth $16,000.
Tournament entry fees have been adapted mainly for the African poker audience with buy-ins for every level of player. Along with the Main Event, the Tzs 2,500,000 ($1,050) High Roller (Re-entry) are the two most anticipated tournaments of the week. The two-day High Roller gets underway on August 24 with players starting with 200 big blinds and a 40-min clock. A cash game poker lounge will be open 24/7.
Dar Poker Masters Festival Schedule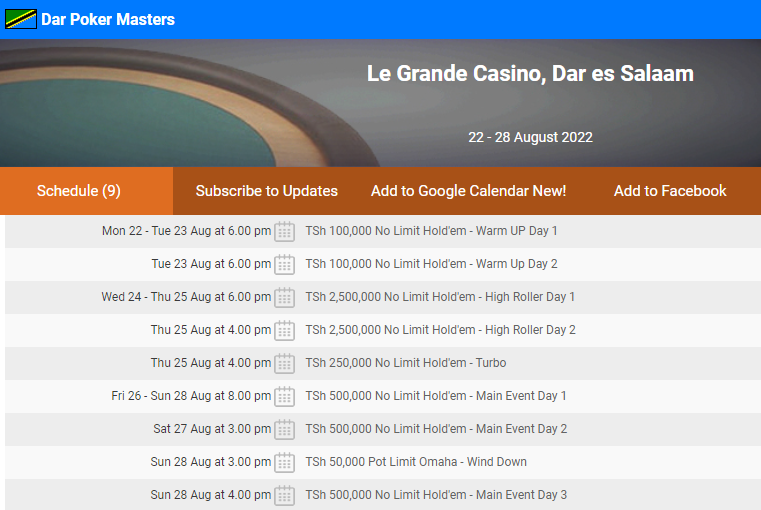 "Partnering with PokerNews on promoting 2022 Dar Poker Masters allows us to attract and engage with players from Europe and other parts of the globe. Make them to visit Dar Salaam, to enjoy 7 days of poker action and our hospitality. Perhaps to stay for week, two or even month longer for exotic holidays, exploring beauty of Tanzania. I can only recommend to visit our national parks on Safari Tour, take ferry and visit Zanzibar to relax at the island, that is often called African Caribbean." explained to PokerNews managing director of Le Grande & Palm Beach, Costa Giannopoulos.
Dar Poker Masters 2021 Videos
How to get there
Turkish Airlines operates direct flights from Istanbul International Airport
Bolt taxi app works the same as in any other cosmopolitan city. Confirmed players have the option to book Casino shuttle transports from and to Dar Salaam airport.
Where to stay
Venue, Le Grande Casino is located at the JM Mall building/tower, 10 min walk from the ferry terminal to Zanzibar
HarbourView 4* hotel is part of the JM Mall tower. This allows players to visit the venue without leaving the complex.
Fairview Luxury 5* apartments are run by Le Grande Casino management and are located across the street 80m from the JM Mall entrance.
Park Hyatt Hotel is located 15 min walk or 5 min by Bolt Taxi from the venue.