The International Team Event
With less than 2 weeks to go and with 8 players booked for the Hendon Mob Forum team already, I just about managed to secure my place in what turned out to be a winning team 😉
I have never played in a proper team event before where "proper" entails the meaning of soft playing, slow rolling and choosing to play differently against your team members.
All of this and even the additional option to consult your team captain on a specific action or move at the table were strongly encouraged! No doubt it was going to be a fun game.
I arrived at the International a little earlier in order to give myself just enough time to go through the new member application process (as I hadn't been back to this place since Gutshot days) and meet & greet my team mates from the Hendon Mob forum.
Once I got to the venue, I was kindly told that unfortunately I cannot enter the club unless I had my application proposed and seconded by existing members. Hmmm, time to find someone I knew!
Fortunately the team captain – Stowjon – and a couple of extra boys (Hello Grumbledook and CaptainGee;) popped their head round the door to ease my entry!
All the admin business out of the way, I was finally permitted to enter the club. You know you are in for a raucous game of poker when there is already a queue forming at the bar @12.30pm and majority of the players were formed in groups discussing their winning strategies & making last longer bets.
Final list of the teams and their winning odds were as follows:
The Staff 5/2JF
The International 3/1
Gutshot Forum 3/1
The Girls 5/2 JF
The Nappy Crew 5/1
The Rejects 4/1
Main Event Travel 6/1
The Western 6/1
The Hendon Mob 6/1
Black Belt Poker 6/1
Pokerchu's team 6/1
Eat My Stack 6/1
Team Wallop 6/1
This wasn't looking great if the bookies were to be believed; however listening to the motivational speech by our pumped up captain and before he passed out a reasonable amount of drink tokens for later, I felt we were more than ready to take this on!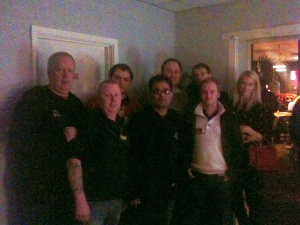 Hendon Mob Forum Team
Once we took our seats we were urged to have a little warm up game of hips and hands which I lost half way through, but only because I didn't realise there was a prize involved for the winner;)
5 minutes of kamikaze moves and we had our first winner of the day – Jamie Burland, who not only received a free seat to the £100 tourney at 7pm but also a big confidence boost for the game and was seated at my starting table. Bring it on I thought!
Action on my starting table was fast and furious and with some familiar faces from the poker circuit such as Scott Shelley, Big Sam and Jamie I was very quick to notice that it was on one of the loudest & probably the most aggressive starting tables in the room too.
There were lots of interesting hands in play and far too many inflated pots but the most memorable for me was this:
There were 5 limpers including Big Sam – who had been making funky moves all day and backing them up with his outstanding speech play.
So Sam limped along on the button and action was on Jamie Burland in the SB who decided to proceed with a decent size raise. It was an obvious STEAL! Still everyone got out of the way but Sam who decided to stand up to Jamie (btw – he was NEVER folding once he entered a pot).
The flop brought Ks, 2d, 9d and Jamie led out. Sam didn't take long before clicking back. Jamie went into agony and after an Oscar winning performance he made a call announcing a "peal!!!". The next card was a 3s and James checked.
Sam announced all-in the captain of the "Black Belt Poker" team was called in for advice on Jamie's next move. After a long debate involving nearly all the players at the table and a thorough interrogation of Sam's live tells, BBP team has decided to go for it and made a call for Jamie's tournament life with…
Jamie AA v Sam Kd,7d
The river cards was a diamond of course and Sam went on to take a huge pot and a chip leader's crown at that point in time;) Sam's facial expression when he saw the bullets was priceless and I could not stop giggling for the next few orbits.
It was all going well; I was enjoying the table banter and making some chips whilst keeping an eye on my team mates. The latest update from the captain was that we were down to 60 or so players and we still had 7 HM associates in, which was great news and very encouraging.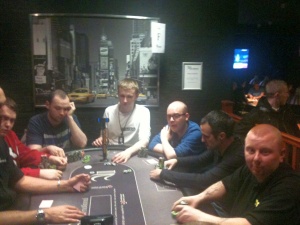 Captain on the final table (first one the right)
Although there was £1,180 payout and a trophy for a winning team, but it was so not about the money this game. You could read between the lines and see in every team's player eyes that we were fighting for the bragging rights.
Being recognised as the No.1 team in London/Forum/Club was the key motivator for all of us, especially Stowjon;))
After a dinner break and a good catch up with Grumbledook, dcsw7, paddy and the rest, we were back to the felt based battlefield.
Unfortunately luck wasn't on my side that night and I busted out shortly after when losing with AK<55 for majority of my stack and then failing at flipping again with AJ<88.
I spend the rest of the night railing my team and making new friends:)
With 40 players left in the game we had a massive edge over the rest of the teams with 6 team members still in and I had every faith that the surviving Hendon Mobsters could pull this off.
Things continued to go well as 3 of them made it to the Final Table of the International Team Event and from this point there was no looking back! 😉
The Hendon Mob took the team title shortly later!
Ship it!
A huge well done to the whole team and especially the finalists & our team captain for leading by example.
I am very happy to have been a part of a winning team and look forward to the next team event already to defend the title! 😉