Las Vegas Team Challenge III Live Final
Las Vegas Team Challenge is an online league which works on a simple premise. You enter the league by registering a team of 4 members and then play up to two tournaments online each week for 3 months in order to collect as many points as possible for your team.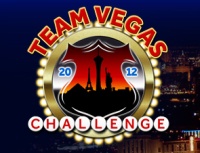 Las Vegas Team Challenge
The higher your finishing position is in an online game the more points you earn for the team.
This is very important as in the end of the online process, your team's total score will be your individual team member's starting stack in the live final where all the teams are competing for the $66,000 Las Vegas Package!
This was the 3rd Las Vegas Team Challenge run by Genting and promised to be the biggest!
My team was called -"Baltic Blonde and the Boys" and with some decent results we had an edge over a fair number of our competition by starting the live final game with the stacks that were in the top 15% of the highest starting stacks.
In addition, the fact that I had very experienced poker players in my team, who had some great results in a live poker tournaments made me feel very excited and confident about the final play off.
Meet the team:
1. Lee Taylor – solid poker player, with superb online & live results. I met Lee over 1 year ago on the poker circuit and we became friends after then.
2. Matt Heap – I met Matt 2 years ago in London at the Fox Poker club whilst playing one of the tournies. Matt is a very solid poker player with some great cashes, especially online, under his belt. Matt was in my team last year and made us proud when finishing in top 20 out of 180 runners in the final.
3. Nick Jenkins – our recent winner of £10k sponsorship with Genting. We met through the Hendon Mob forum and stayed in touch via social media. Nick is a very nice guy and a very talented poker player.
4. And me:)
Las Vegas Team Challenge III live final was held at the one of the largest casinos in the UK – Genting Club Star City – in Birmingham. It was a perfect choice not only because of the venue's ability to accommodate 66 teams but a vast variety of food & drink in Star City as well as entertainment options.
For instance you could chose between bowling,( not in the casino obviously!) playing golf of football, working out or climbing walls to work out any anger if you bust unluckily early!
Although the game was due to start at 2.15pm, my team mates and I arranged to meet a little earlier, so we would have just enough time to grab a bite & to discuss what we hoped would be a winning strategy.
Taking into account last year's results and experience where we came third and just missed out on the European Package, it was obvious that this tourney needed a different approach from a typical poker game with minimal risk taking to build your stack and picking key spots tantamount to success.
Lasting longer and not letting your stack get too low were the key elements of focus. There were plenty of last longer bets being struck as we sat down to play!
It is also important for your team to follow the ever changing dynamics of the players round their starting tables – knowing the facts such as how many members were left in each opponent's respective teams & their stack sizes as well as how many drinks they had sloshed down so far was very important.
It could lead to large potential fluctuations in their playing style!:))
My team was ticking along ok, and we were down to 180 or so players when I encountered my first I tough spot:
I called a UTG+1 raise from the SB with As,Qs and BB elected to come along. We were 3 way to see the flop of Qc,9c,5d. This was obviously a good flop for me and being out of position I decided to proceed with the check raise.
I checked and BB followed the suit, and the initial raiser put in a decent size bet.I raised and before I knew BB announced all-in and he just about had me covered!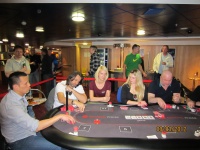 UTG raiser quickly folded and action was back on me. I put my thinking cap on;) BB seemed to be reluctant to call a raise pre-flop and I assume that only because he was getting good odds he decided to see the flop.
Hence I would certainly discount any set or over-pair possibilities here.
In addition, his check raise all-in, implied that he was not very keen on further action and wanted to take the pot down immediately.
So it was either drawing two club hands or the less likely 2pair combinations that seemed to make the most sense at the time.
I was in a pretty decent position stack wise at the time & didn't really needed to get involved in such a big pot, as I remained confident of chipping up as the day progressed without too many showdowns.
Normally with my read and against a tougher field I would call but I decided not to gamble at that point in time.
My decision was a strategic one rather than mathematical, as it would be much more difficult for my team to win the challenge if I got knocked out early- plus I had a reputation to upkeep!;)
I found the fold and the guy showed 3, 4 of clubs. Time would tell whether I would regret this…
Matt Heap
We were down to 140 players before we lost our first team member. Matt got very unlucky when running his set into a higher set.
It was actually a very interesting hand, where 3 players entered the pot and all of them flopped sets.
Apparently the odds of that happening with 3 players to the flop is approx 1,000:1! You could play all year and not see this hand live again!
Lee was the next one to bust in 95th when running his JJ on the button into Big Blind's KK. Another mean set up!
At this point it was all down to Nick and I to make it to the final table in order to have a chance to win the main prize & best team's title. It was definitely going to be a challenge!
The atmosphere in the Genting Club was great – players who have already bust out were either cheering for their team mates or trying their luck at the casino games whilst the LVTC event host & poker veteran Mad Marty Wilson made sure that everyone still involved kept a smile on their face.
The fun aside, it was down to business for Nick & I and we were slowly but steadily getting closer to the last few tables before I saw Nick appear with his first bottle of beer! Oh no!! He was out in 75th when losing a coin-flip.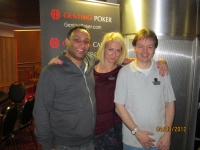 With my team mates – Lee & Nick
Well, we were out of any realistic chance of the first team prize and a real outside bet for second prize – a European Poker package worth $12,000.
There was cash from 20 upwards, so I thought I might as well get busy and adjust my game accordingly.
Shortly after we were down to 6 tables and I was moved to the feature table for the first time;)
The TV table was fun; there were a few clearly very aggressive players with the big stacks piled up around and a couple of pretty decent players who were evidently looking to move up the ladder.
I had 15k at the time and the average was around 25k, so had no time to waste and need to start building or bust. I was generally card dead and majority of the pots I elected to enter proceeded or ended with me going all in.
As a result I quickly build a loose table image and fortunately got paid when I actually received a proper hand:
I opened with KK in earlyish position and received a call from one of the biggest stacks on the table.
The flop brought 8h 6h 4c and I continued with a decent size bet. He quickly called. Next card was K of clubs and I quickly shipped the rest of my stack in.
Snap call from my opponent with Q,8 of clubs and I received a long overdue double up:)
It was nice having my team mates railing for me round the corner and making sure that my lucky glass of wine was always full:)
I finished the day on 63k (avg was73k) and 24 players left and I was still in the running for the most valuable player title & $6k Vegas package.
We continued the fun with my team at the hotel bar of course;) It was like a mini after party with a fun group of poker players having drinks and a good chat.
The day 2 started at 2pm, so I had just enough time to get enough sleep( yeah, I was up that late!) and hide my tired eyes under a girl's best friend- make up:)
I was still playing on the feature table and had a few big stacks around the table. Taking my 25bb stack into account I didn't have too much scope for playing proper deep stack poker.
It was all about waiting for a hand and doubling up hopefully and then bullying the guys who are still competing for the Main Vegas Package and attempting to ladder for the points
I played for 4 hours or so and in that time had only one premium hand – 10,10 with which I made a squeeze play and didn't get any action. With MVP to up for grabs, I was hanging in there and in the money and down to 16 players I had drifted to around half the average.
The other guy who was my main competition was also still in and needing to finish in the top 4 if he busted before 10th, it was going to be tough!
I was staying alive though, shoving with a rogue's gallery of hands from 10,6 to 8,3. I was hoping to pick a hand up when I got called or get lucky to get back to average. In the end neither event occurred as I busted in 11th when shoving with 7,9 this time as my decent hand never came! I just missed out on the MVP but was happy to have made a very good account of myself and done my team proud.
It was another cracking event and I look forward to the Team Challenge number 4!
In the interim there is plenty to keep me occupied with the online Team Vegas Challengeand the GPS which is in London this week. Hope to see some of you there!