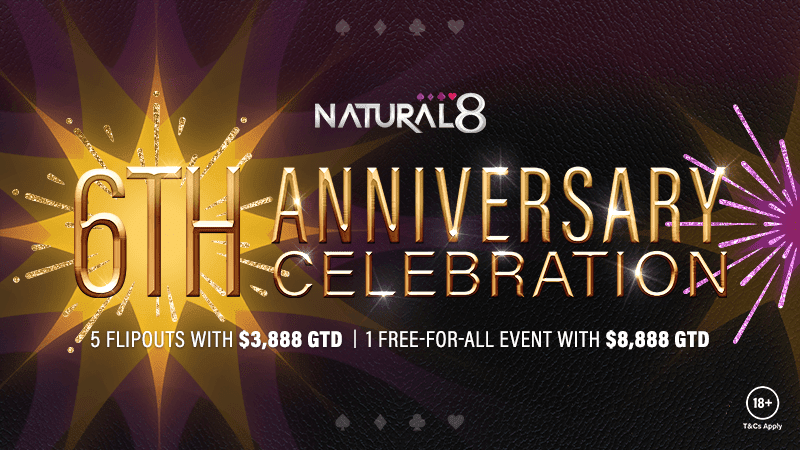 Celebrate Natural8's 6th Year Anniversary!
Natural8 turns six this 5th January 2022
To celebrate, there will be five flipouts and one free-for-all freeroll for all players
$28,000+ worth of prizes in total to be won
Natural8, one of the skins on the reputable GGPoker Network, celebrates its sixth anniversary next month.
To toast this milestone, the room will host five flipouts and one free-for-all freeroll in the month of January. Each flipout has a prize pool of $3,888, with the final freeroll boasting a boosted prize pool of $8,888.
Players will be eligible for the flipout depending on when they signed up for their Natural8 account. With the final $8,888 freeroll, it will be open to all players regardless of their sign up date.
Natural8 6th Anniversary Timetable
Date
Time (UTC 0)
Event
Eligibility
8th Jan
10:00
Flipout 1
Players with sign up dates in 2016
Flipout 2
Players with sign up dates in 2017
Flipout 3
Players with sign up dates in 2018
Flipout 4
Players with sign up dates in 2019
Flipout 5
Players with sign up dates in 2020
Free-For-All Freeroll
Open to all; Capped at 4,000 players
How do the Anniversary Flipouts work?
The Natural8 Anniversary Flipouts will be pretty much a game of luck where anything is possible! Participating players will be assigned to different tables and pitted against each other in a single hand of Texas Hold'em. All players will automatically go all-in and surviving players will merge to a new table for the next hand. This process will be repeated until there is only a single player remaining.
Do note that players will have to opt-in to participate. Once opted in, players who meet the eligibility criteria will be auto registered to their respective Flipouts.
Free-For-All Freeroll
The free-for-all freeroll is open to any Natural8 player regardless of their sign up date, but will be capped at 4,000 players. It will feature a $1 rebuy/add-on, and registration will open 24 hours before the start of the freeroll.
About Natural8
Launched in 2016, Natural8 began its journey with a focus on Asia and in the short span of 6 years has grown into Asia's largest online poker room. Since then, they have expanded globally, with players all over the world.
A leading skin on the reputable GGPoker Network (GGPN), Natural8 aims to make poker fun again. Familiar favorites like Texas Hold'em, Pot Limit Omaha and Short Deck are staples on Natural8 and VIP tables are available for those who crave high stakes action. Natural8 also boasts a range of unique specialty games like All-In or Fold, fast-fold Rush & Cash, and a 3-Max Sit & Go variant, Spin & Gold.
Natural8 has also partnered with notable names like the World Series of Poker and the World Poker Tour Championships. The launch of online World Series of Poker tournaments in 2019 broke multiple records, including that of "largest prize pool for an online poker tournament" at $27,559,500.
"We would like to thank every single player who has been with us since the very beginning," said the Head of Promotions at Natural8. "We've gone through yet another year, and we wouldn't have been able to do it without all your support."