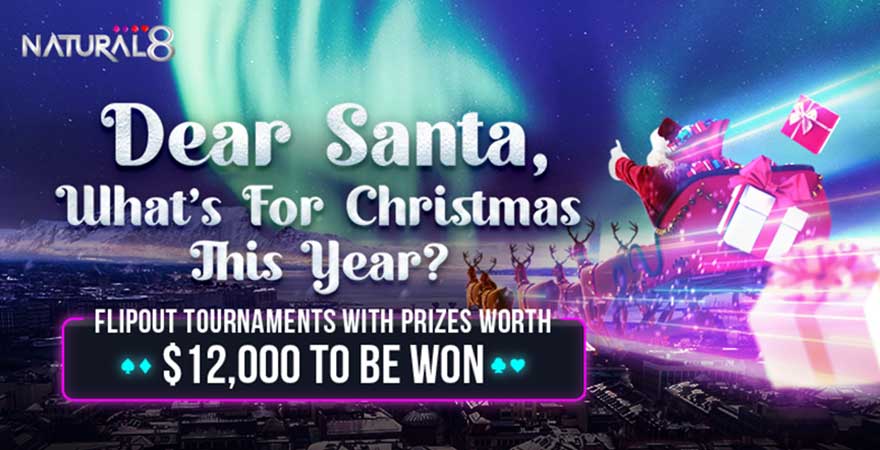 Celebrate Christmas This Year with Natural8's "Dear Santa" Charity Flipout Tournaments
Dec 18, 2020 – There will be eight days of Christmas giveaways coming soon to Natural8, with the launch of their "Dear Santa" Charity Flipout Tournaments.
Starting Dec 25 until Jan 1, these tournaments will happen once a day and have a buy-in of just $1.
Players will be in the running to win a total of more than $12,000 in prizes – including a Surface Pro 7, iPhone 12 Mini, iPad Mini, PlayStation 5, Nintendo Switch, Secret Lab gaming chairs, Sony WH-1000XM4 headphones, WSOPC tickets, Natural8 hoodies, $100 Amazon gift vouchers and cash.
To add on to the joy of giving, Natural8 will also be donating all buy-ins to a good cause. Players can walk away knowing that they have contributed to a worthy cause, with Natural8 pledging to match each and every buy-in.
When asked, the Natural8 Partnerships team said, "Here at Natural8 we believe in doing our part to give back to communities in need. The goal for this year is to raise $10,000 and we will match that with an additional $10,000. We hope that together with our players, we can reach that goal and do our part in making the world a better place."
There will be 80 places paid per tournament, and a total of 8 flipout tournaments which will run daily from Christmas Day till New Year's Day at 12pm (UTC). Each tournament will be packed with $1,500 in mystery prizes and there's a twist – the prizes will be completely random. Players who finish first might not get the best prize.

How do Flipout Tournaments work?
Flipout Tournaments are pretty much a game of luck. Anything is possible. Participating players are assigned to different tables and pitted against each other in a single hand of Texas Hold'em. All players will automatically go all-in and surviving players will merge to a new table for the next hand. The process is repeated until there is only a single player remaining.
When asked how the idea of a Flipout Tournament came about, the Natural8 team said "We wanted to create something where anything is possible. Whether you are a new player or a professional, your chances are the same. Players who aren't familiar with the game will still be able to participate and win great prizes with just $1."
Natural8 12 Days of Xmas Instagram Giveaways
In addition to the Dear Santa Charity Flipout Tournaments, Natural8 will also be holding exciting giveaways via their Instagram channel. There will be some unique and exciting prizes given away from 25th Dec 2020 through to 5th Jan 2021. If you're looking to bag some WSOP Winter Online Circuit tickets, this will be a great place to start.
Also happening across the Christmas and New Year period, this series boasts a $100 million guarantee as well as the opportunity to win 18 official WSOP rings. Natural8 is also offering players a live event sponsorship worth up to $50,000 with the LiveX Sponsorship – including an all-expense paid trip to Las Vegas!
New to Natural8?
New players can get up to $1,559 in bonuses – including a bonus of up to $1000 on their first deposit, an $8 instant bonus, $301 in prizes for completing the Honeymoon for Newcomers challenge, as well as entry to the $250 First Deposit Freeroll. There is also the newly-launched $2,188 Bitcoin Bonus, which rewards players who deposit using cryptocurrency.