It's Time: Excerpt and Competition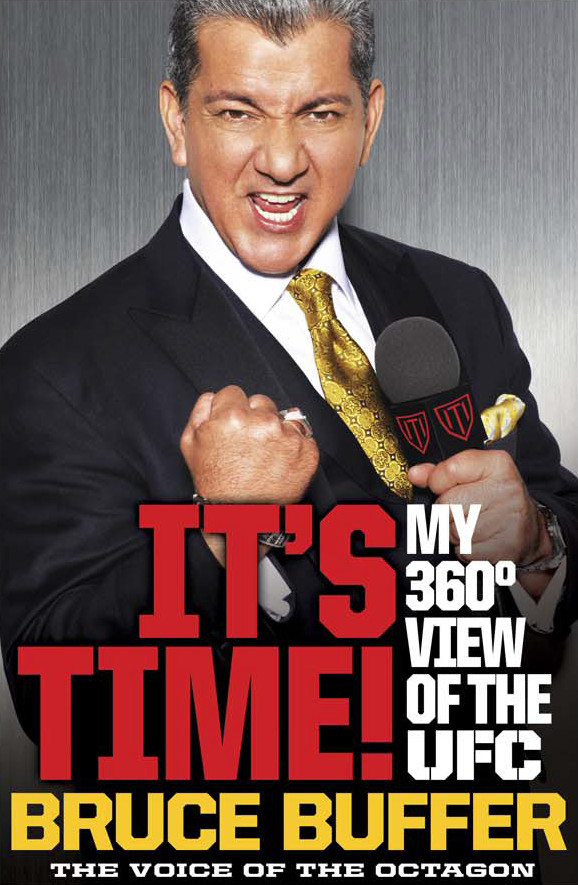 This is an excerpt from Bruce Buffer's book It's Time. The book is avaialble to order from Amazon.
Get This Book for Free
You have a chance to win one of ten copies of this book. All you have to do is enter the competition on our forum [NEED THE URL TO THE FORUM THREAD].
---
Excerpt: It's a Gamble
My father taught us to play blackjack when we were kids, and I was always pretty good at it because I had a head for numbers. I even skipped a grade in math in school. I'm not Rain Man, but I'm pretty good. But I never really got a chance to play for real until I was twenty-one years old and starting to help my parents out with those gun and collectible shows where they exhibited at the legendary Riviera Hotel & Casino in Vegas. It was one of the top hotels in Vegas back in the day, and still lives large in American culture as the backdrop of movies such as Casino.
I loved those days. My father was what they called a boss gambler. Not a whale, exactly, but a guy who was well known enough to be comped and occasionally get the Frank Sinatra Suite, with everything paid for by management short of tips and play. He'd say to us, "Hey, you want to see a show?" Then he'd turn to Louie, the pit boss, and say, "My boys want to see a show." Louie looked like a guy out of a Scorsese movie. He'd make a call and cup the phone to his huge chest. "Hey," he once said to Brian and me, "Elvis is at the Hilton tonight. You wanna see Elvis?"
"Nah," we said. "We want to see Shecky Greene."
"You saw Shecky last night," Louis reminded us.
"So what?" Brian said. "He was funny."
"Yeah," I said. "We can see Elvis anytime."
Stupid us. It would turn out to be one of the last concerts Elvis played before he died.
After a while, people knew us and no one ever questioned the fact that I was gambling at such a young age. There was one glittering night when Brian won $8,000, I won $12,000, and our father $20,000! Our mother was ecstatic: $40,000 in one night!
Another time, when I was twenty-four, I had a huge win at the blackjack tables. As soon as I called it quits, the pit boss came out, congratulated me, and told me I could never play there again. He claimed I was a card counter. I was stunned. I don't have the head for counting cards, and was offended. Card counting sounded easier than what I was doing.
I persuaded them to let me stay by agreeing to play the six-deck shoe. Your odds are terrible on the six-deck because the casino is literally shuffl ing six decks and you have less of a chance to hit the high cards.
But guess what? I continued to win!
After a while, I started running my own weekend gun and collectible shows in Los Angeles, at the Hollywood Park Casino. When the show closed for the afternoon, I'd hang out in the casino. They didn't have blackjack, so I started playing poker, mostly seven-card stud or, better, high/low and a new game, No Limit Texas Hold 'Em. This was the game everyone was playing, and I became infatuated with it. It's the game you see played on the World Series of Poker, where the top champions get a gem-encrusted gold bracelet, the most desired prize in gambling.
It seemed only natural for me to keep playing, and as I got older, poker became a second or third career for me. From time to time I've dabbled in other forms of gambling. For a long while, like a lot of people, I became obsessed with following and betting on football. I became very good at handicapping the book makers' point spreads, and I was at my best when I stuck to my guns and my own analyses about who would win. When you bet like this, you can win even if you bet on the losing team. The trick is to beat the point spread.
I remember running into a very famous professional athlete— you'd know him, believe me—in Vegas on Super Bowl weekend, 2009. The Steelers vs. Cardinals game. I was in town for UFC 94, GSP vs. Penn. Right after the fi ghts, I watched this sports star lose a million dollars at the high-roller roulette table. That's a lot of chips to lose on a game that depends not on skill but pure luck alone.
The next morning I ran into him at the gym, where he told me that he'd used up his $1.5-million credit line with the casino but still wanted to bet on the Super Bowl. He asked me if I knew anyone in Vegas who could extend him some credit. I couldn't help. Before he left, he told me to bet on the Steelers, who were the favorite. Well, I'd already placed a bet on the Cardinals. My VP Kristen was from Arizona, and I thought we'd have fun together cheering for her team. I changed my bet on the big man's advice, though. Wouldn't you know it, the Steelers did win, but they didn't cover the point spread, so I ending up losing. Had I stayed with my gut and gone with the Cardinals, I actually would have won money and retained my perfect record. Until that day, I had never lost money on a Super Bowl bet in nine years. The lesson there is not so much never to listen to a losing bettor, but to always trust your instincts over someone else's. And to stick to games where you have some control over the outcome.
That's what I like about poker. It's about your personal skill, not taking a chance on what an athlete or what a ball in a roulette wheel is going to do.
Bufferism No. 10 "It's Legal to Lie at the Poker Table."
I never lie in life. I tell the truth or I don't say a word. I love poker because I can get all my yah-yahs out and it's not only okay, it's expected.
Poker ultimately pushed football out of my life. My career really started with a poker tournament at the Borgata in Atlantic City. I was in town to announce UFC 53 in 2005, and decided to play my fi rst tourney. I made it all the way through to the fi nal table. The fever took hold of me. I realized I had the skills to play—big. Then, later in 2005, I made the televised fi nal table again at the World Poker Tour's Celebrity Tournament. It's the dream of many players to be at that table, and I got in on my second outing. It was only my second tournament, and I came in sixth! I got invited to appear in an instructional poker DVD and started doing more tournaments on the pro circuit. I got world-class rated and became a player with a team called Full Tilt Poker. The more you win, the higher up you go in the annual professional rankings.
Well, as soon as I was playing for Full Tilt Poker, I decided to make some changes. I was becoming obsessed with poker, and I was already obsessed with football. I was a winning football season bettor for the last seven seasons, but I realized that between playing poker during the week, and spending Sundays and Mondays glued to the set watching football, I was spending way too much time on gaming and sports. It robbed me of my social life and ate into activities I loved, such as surfi ng, brunch dates on weekends, and time with my loved ones.
Screw it, I thought. Football's out. I'll stick with poker.
10 Tips for Mastering Poker
Watch hundreds of hours—seriously!—of poker TV shows and read a poker book.
Watch the instructional video Final Table Poker starring poker pros and yours truly.
Eat right, sleep right, exercise right, play right.
Don't play with the rent money!
Never have your girlfriend sit beside you and watch.
Learn the math. In school it cost you a grade, but on the felt, it can cost you your bank account!
Don't fall asleep at the table.
If you want to win, you should never drink more than one drink every four hours, if at all.
Leave the uppers and Adderall at home.
Win like you're used to it, and lose like it doesn't bother you.
So I stopped betting during the football season. These days, I only bet on a few playoff games and the Super Bowl when in Vegas. (There's always a UFC in Vegas on Super Bowl weekend.) The funny thing is, once I stopped betting on football, I pretty much stopped watching games in their entirety. Having a little action on the games always made it more fun for me to watch the whole game and cheer away. Ultimately I think my decision was a good one. I knew in my heart when too much of a particular vice was too much, and I quit in favor of the sport that gave me more control over the outcome.
I approach poker with the same attitude that I approach fighting, competition, business, and life itself. In a way, I guess it's a substitute for what I used to get out of surfi ng or fighting. These days I can't train or spar, much less fight, the way I could in my thirties. I can't go three rounds and have a great sparring match in kickboxing anymore. The arthritis in my shoulder has made it so that I can't and shouldn't paddle out more than a hundred yards or into dangerous waters when I surf. I just don't have the range of motion, so I have to pick my surf spots more carefully now.
I can play poker for the rest of my life. I can travel all over the world and do this wherever I go. I can sit at a table in combat with someone, and use my mind and my God-given talent for making my own luck. And guess what? Poker has a lot in common with fighting. It's the same strategy, the same mental attitude, the capacity for bold opportunism.
When you fight in the ring or the Octagon, you're one-on-one. When you fight, you derive tremendous satisfaction from knocking an opponent off his game and triumphing. Poker's only slightly different. You start out navigating a group dynamic, but as people drop out and you ascend to the higher echelons, you're soon playing one-on-one with the better players. And you win by knocking someone off the table and taking their chips. And the whole time, you have to be thinking three steps ahead, the way you do in chess, backgammon, or fighting—all things I love.
At a poker table, there might be nine other guys sitting there. But it's not really nine guys. Your true competition is the weakest man at the table. Your goal, should you choose to accept it, is to knock that guy out. But to figure out which one you're going to pit yourself against, you have to watch everyone like a hawk. What are their personalities? Who's passive? Who's aggressive? Who's passive-aggressive? You begin to feel like a Jedi master, trying to feel the Force and determine whom to take out.
You watch how they put their chips out. Do they shove them out, or slowly put them out? Do they raise mediocre hands? Are they raising with every hand just to be in, and throwing out half-assed raises? Are their chips neat or untidy? If they are low on chips, you know you can pick on them. You always pick on the weak players, just the way a canny fighter knows to pick on a wounded warrior. You kick them on the wounded leg and keep attacking. If they have a cut on their eye, do you punch the other? No way! You beat them where it hurts until you make them break.
Poker isn't as strenuous as fighting. But it does tax you mentally and physically. Some of the competitions run for twelve hours a day and you need to stay alert, well fed, and well rested.
It gets very exhausting sitting at a table with a bunch of clever men and women waiting for you to show some sign of weakness.
When I enter these tournaments, I follow practically the same regimen as I do when I announce: I wake up, work out, have a power breakfast. It's not about which girls I'm going out with tonight, or which clubs I'm going to. It's about staying focused. I meditate to get my head in the right place, and then I go downstairs and go to war.
Until that Black Friday, April 15, 2011, when the U.S. Department of Justice effectively shut down online poker, I enjoyed playing the sport online. I remember one time arriving at my hotel room in Abu Dhabi and dipping into a little online poker. I was doing really well, but I'd just been fl ying for more than twenty hours and was jet-lagged. Next thing you know, I dozed off in the middle of the game! I woke up three hours later and looked at the screen. I was still in the running, because I'd done so well earlier in the game and had built up so many chips. To stay awake, I was slapping myself in the face to finish the game. It was hilariously nerve-racking, and a hell of a lot of fun. I ended up fi nishing third and winning $11,000—not bad for a guy who almost slept through the tournament.
I wouldn't want to give the impression that I never lose.
Everyone loses.
You can't win every night. You can't let it affect you. If it does, you have to leave poker. If I let my loss from a couple of days ago get me down, it's going to affect my success today. Ergo, I have to ban loss and failure and negativity from my psyche. How else can I move forward?
I see a lot of similarities between that mind-set and the fighters I see. In the Octagon, you have to stay positive, you have to stay fi t, and you have to stay mentally alert. If you make one mistake in fighting, you're knocked out. If you make one mistake in poker, you're knocked out.
Do you remember UFC 31 in 2001? Pat Miletich was winning the fi ght. Carlos Newton got him into a bulldog choke, and Pat lost the fi ght because of one mistake. He ended up losing by submission with only ten seconds left in the second round. That's exactly what can happen if you slip and lose your concentration. I remember looking at Pat's face after the fight; it pained me to see the frustration that was etched onto it. He was so mad at himself that he ripped out his mouthpiece and fl ung it away. He knew he had it. Only ten seconds to go!
Or more recently, you probably remember that UFC 112 bout in Abu Dhabi, where we all watched the challenger, Chael Sonnen, go against the legendary Anderson Silva. Chael hit Anderson well over 200 times with strikes and kicks, all the way up to the last two minutes of the fifth round, when Silva made Chael tap to submission from a guillotine choke. Until that moment, Chael was winning convincingly on all the judges' cards. These things happen, and every fighter has to make his peace with them.
My uh-oh! moment came in 2010 during the World Series of Poker. When we started the series, we all started with $30,000. In the span of fi ve days, I'd built that up to $512,000. (Please bear in mind that these figures are not "real" money, but tournament chips. Everyone starts with the same number of chips in a tournament—and winner takes all.) Now, on the fifth day, the 7,500 players had dwindled down to 478. On the last hand before fi rst break, I was on the button, meaning I had a decision to make. My opponent was a young hoodie-clad poker warrior. He raised the chip blind from $8,000 to $25,000. I peeled back pocket aces, the most powerful opening hand in the game.
I raised his $25,000 to $75,000 in chips.
He went in the tank, which means he had to think. He zoned out for two minutes, which is an eternity at the poker table. Finally he called my bet and put out the $75,000. The dealer now hit us with the fl op. Three cards hit the table: eight, ten, eight.
In my hand I held aces and eights, the notorious "Dead Man's Hand," which legend says was held by the gunslinger Wild Bill Hickok when he was shot in the back in 1876.
I did the numbers and I figured the range. Whenever you play poker, you have to figure out what range of cards a player would typically raise a bet on. Everyone's got different thresholds. Me, I'll play any two cards, whether it's a ten and eight suited, or king and jack suited, or a four and five suited. Other guys will only call bets or raises when they're holding "premium" hands, such as an ace and a king, a king and a queen, or any pair. You've got to hack the code, and figure out how each player works, and go after them accordingly. So now I asked myself, Why would my opponent raise the bets? Does he have a pair of tens? Or a pair of eights? Why would he call my $75,000 chip raise? I did an insane thing. I bet $100,000 in chips.
My opponent went in the tank again, and then finally, grudgingly, pushed out a stack of $100,000 in chips to meet mine.
The dealer gave us the turn card—the king.
I started strategizing. Okay, a king. What does that mean? I figured if my opponent had an ace and a king, or two kings, in his hand, he'd be aggressive as hell in his betting.
I bet $130,000 in chips.
I waited for him to make his move. This was his chance.
Was he going to jump on it or not? He didn't. He went in the tank for over two minutes. Okay, I thought. He doesn't have kings. When he came out from under that hoodie, he shoved his entire stack at me, going all-in.
I looked at the chips in front of me. I'd started with a little over a half million dollars. I was now down to $150,000 in chips. The chips in the pot were worth $1 million.
Do I fold or call, hoping my opponent has a king, and he maybe doesn't realize I have aces? What do I do? If I win, I'll be in the top ten–chip leader count of a tournament that pays $7.5 million in real money for fi rst place. The tournament's buy-in—the money we all put in to enter and get our fi rst stack of chips—was $10,000. If I lost now, I'd win $27,500—a net gain of $17,500.
It was a fall from grace, but a soft fall.
I called. My opponent turned over two eights. He flopped four eights on the table, what we call quad eights.
I lost.
The cameras were on me. I had just played five days straight, playing the best players in the world, playing my best game ever. And all that was taken away from me. All gone in the flip of a couple of cards.
All the air left my body.
But how do you feel after that?
I recalled something my father always told us: Win like you're used to it, lose like it doesn't bother you.
Wise words, but tough to live up to—in the heat of the moment. But hey, I wasn't going to live in failure. Okay, I made the wrong call, but it was the right one at the time. It took ten minutes to recover from that loss after I started breathing again. But don't think I didn't play that scenario over and over again in my head more than a hundred times. I saw it as an opportunity to learn. I now have a love/hate relationship with pocket aces whenever I peel back my cards. Statistics show that if you're facing more than one player, you will lose with pocket aces 66 percent of the time when going all the way to the river, or last card. These days I try to push all players out of the hand by the turn card, the fourth card dealt by the dealer. Lesson learned.
I went home with $27,500 that day. And about two weeks later, I won first place and another $75,000 in the main event of Larry Flynt's Grand Slam of Poker at the Hustler Casino. The two events together made it my winningest month ever: $100,000-plus in a single thirty-day period.
It's hard to feel bad about a loss when that happens.
There's an old saying: where there's a chip and a chair, you can win. As long as I have a few chips in front of me, I know I can win. As long as I have bullets in the gun, I know I can shoot. As long as I can stand, I know I can throw a punch.
One of these days, I'll win that bracelet. And when I do, I will flaunt it.
You'll see it in the Octagon.
It'll be on my microphone arm.