Prima Network and The Hendon Mob: Mission Accomplished!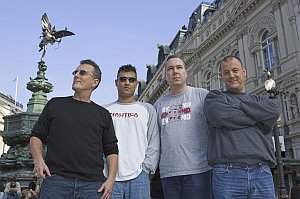 ISLE OF MAN, Dec. 30, 2005 — The Prima Network, the world's leading online poker network, and The Hendon Mob will conclude their third and final sponsorship deal this month. In 2003, the initial Prima tour teamed the emerging poker network with Europe's foremost poker professionals in poker's first major sponsorship deal. The success of that tour led to more ambitious and fruitful deals in 2004 and 2005. During that time, the network grew to its current leading position in the industry. Moving forward, Prima will continue to focus its efforts on continuing to expand the network.
"Both Prima and the Mob have enjoyed and benefited from our work together over the past two years," stated Prima Network CEO Roger Raatgever. "The Mob are world-class players and we wish them the best of luck, at the tables and beyond."
Recently awarded 2005 Top Gaming Portal by Gambling Online Magazine, The Prima Network is known for its presence in the poker world as a trendsetter. Signing the Hendon Mob was just one of the many benchmarks of the Network's influence in the poker world. The deal, worth more than $1 million a year, was the first of its kind and has since been emulated by every major card room on the Internet.
During Prima's relationship with the Mob, the foursome acted as the network's ambassadors at more than 40 poker tournaments and festivals around the world, greeting and helping network satellite winners, onlookers and even reporters, to improve their games. Through their popular website, thehendonmob.com, they helped to build and strengthen Prima's online community.
"Our association over the past two and a half years has been a great success both for Prima and for the Mob," said Barny Boatman. "We have made many great friends across the Prima Network and we look forward to seeing a continuation of the phenomenal growth which we have been a part of. We have seen Prima become, from a standing start, the world's foremost poker network and as far as building the brand is concerned it is a case of 'job done'. The Mob retains good relations with Prima and with many of the network's card rooms. In particular we look forward to continuing to support the hugely successful Monte Carlo Millions which has become one of the world's most prestigious events."
About Prima Network
The Prima Network, the award winning online poker network, is powered by Microgaming software, the leading developer of Internet gaming systems, Prima licenses to more than 35 operators worldwide to form a global poker network. The Prima Network ensures that a critical mass of online poker players and a wide variety of games and tournaments are available at all times. Sought by online poker players and operators, the Prima Network symbolizes quality, representing the highest standards in online poker play, fairness, and credibility. For more information, please visit www.primapoker.com.
CONTACT:
Lotus Public Relations
Kerry Johnson
(212) 922-5885