Beginner's Luck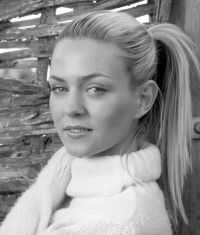 Alisha Smith
I guess I have always had bit of a reputation as a serial games addict. You name it I have to win it. When my ex-boyfriend's mum introduced me to the geeky world of Scrabble, I spent a whole week studying the Collins English dictionary learning the most ridiculous two and three letter words (xi, qis, za all count). Don't get me started on darts and pool. Do I take things too seriously? Perhaps, losing ain't my favourite pastime that's for sure.
So when I noticed my little brother still awake at the break of dawn, bleary eyed, clicking away at his computer screen, I was intrigued to say the least. Poker was something I'd always associated with dodgy gambling types, drinking whisky in a smoky cellar. Yet now it could be played in the safety of your nan's living room, whilst watching Discovery and drinking tea.
"Give us a go then."
"But you don't know how to play!" He smirked.
That was true, I knew it involved making hands and bluffing, that was the extent of it. So my brother gave me a ten minute lowdown, then enrolled me in my first 180 man tournament, I laid down some shrapnel then off I went.
Three hours and a lot of excitable squealing later I found myself on the final table, then, somehow, I won! My first tournament, 180 people and I came first taking $105 from a mere $3.30 investment and it all seemed rather easy.
"I won I won", I shouted through to the living room, to the disbelief of my brother who had only taught me the difference between a flush and a straight a few hours ago.
"Is that good?"
"Yeah I guess," he mumbles.
"How many times have you come first?"
"Well I've finished 2nd and 3rd plenty of times."
"But never first?" I add.
He laughs, "no, but that's beginner's luck."
After immersing myself in poker literature, it was clear that the way I played was enough to make the Virgin Mary hurl expletives through the chat box. Any picture card was a godsend to me, even if it arrived with a 2 or a 3. In my opinion A2 unsuited was a brilliant hand, and I even played 72, and won with a flush. I had a total disregard for position and had to keep referring to a small plastic card which stated the hand rankings. I definitely had lady luck on my shoulder.
Now the poker bug has well and truly sunk its teeth in, I took my new found knowledge to a tournament in local bar. I found that sitting in a back room, clinking chips on red felt tables only fuelled my poker fire, the result? I have won the past two weeks running, against a room of miffed men.
"Where do you play?" They ask.
"Oh no-where really I'm a newbie"
"Ahhh," they sigh, "beginner's luck".
Alisha is a Body Double for Actresses including Sienna Miller, Kate Hudson and Emma Watson and has worked on productions such as Harry Potter, St.Trinians and Hitchikers Guide To The Galaxy.