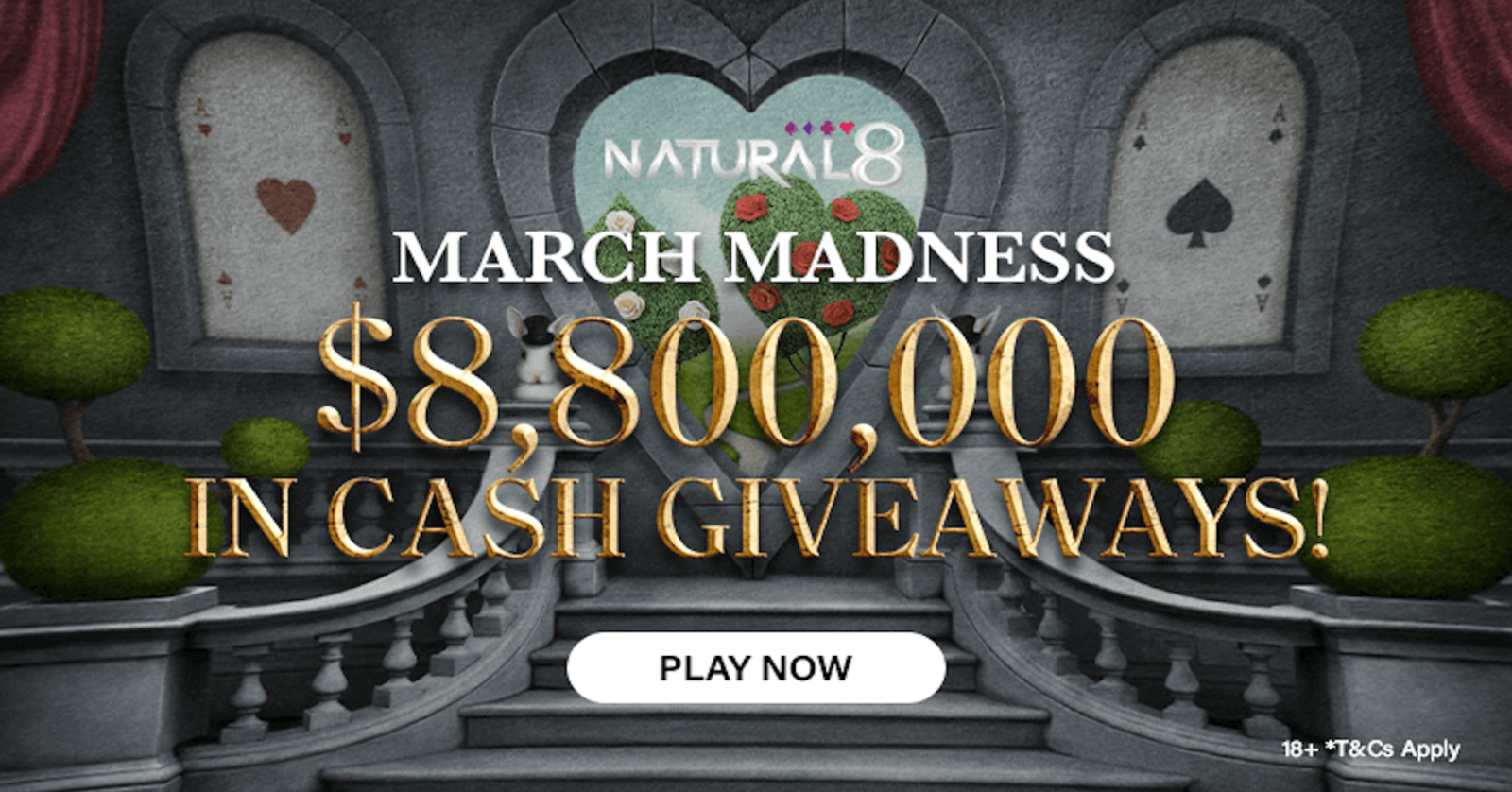 $8.8 Million in Promotions Up for Grabs on Natural8 this March!
The biggest month in the history of Natural8 awaits, as Asia's largest online poker room will offer $8.8 million in promotions this March. Whether you're a High Rollers tournament regular, SNG grinder or small stakes cash game player, there'll be something available to boost your bankroll!
As a top skin on the GGPoker Network (GGPN), Natural8 shares most of its promotions. Read on for a summary of what you can look forward to when joining the action on the fastest growing online poker network.
February saw $7 million in promotions being given out. The massive $1.8 million boost this month can be explained with a few simple reasons. February was a short month with only 28 days, while March has three extra days in which all the daily leaderboards will continue to award prizes. On top of that, the Spin & Gold Daily Leaderboards have increased from $30,000 to $50,000, and a new daily $5,000 Flip & Go Leaderboard will go live.
Let's take a look at all the major promotions for March 2021.
Daily Cash Game Leaderboards Provide Tons of Value
The amount for most of the daily cash game leaderboards remain the same. A big portion of the prizes are up for grabs in the 14 Hold'em and Omaha Rush & Cash leaderboards. The extra value starts from as low as $0.01/$0.02 and goes all the way up to $1/$2.
Rush & Cash: $40,000 Daily Leaderboard
Hold'em: $20,000 Daily Leaderboard
Omaha: $20,000 Daily Leaderboard
Short Deck: $10,000 Daily Leaderboard
For regular Hold'em and Omaha, daily leaderboards with $20,000 in total prizes await. 6+ Hold'em (also known as Short Deck) tables will pay out $10,000 in daily leaderboard prizes.
All points on the Rush & Cash tables are earned with action clicks, while all other games will use raked hands to determine your position on the leaderboard. Happy Hour runs at the same time as usual – from 10pm until midnight (Pacific Time). Players will earn either 1.5x or 2x points during these two hours right before the daily reset.
All-in or Fold Introduces Brand New Omaha Tables
Are you a fan of the jackpot cash game tables All-In or Fold? By playing 100 hands per day at any stake, you can earn one buy-in back straight to your account. Only Hold'em tables were available for this promotion before, but five Omaha stakes have now been added.
They are the $0.10/$0.20, $0.20/$0.40, $0.50/$1, $2/$4, and $5/$10.
This boosts the overall value of this promotion to a massive $3 million per month!
And if you're a four-card aficionado and play tournaments, there will be a change to the game format from now on. The preflop play remains pot-limit but beyond that, all Omaha tournaments will be played as no-limit to make the action even crazier. Rumour on the street is that Omaha Spin & Gold jackpot SNG will also happen soon, so stay tuned for more information!
Huge Spin & Gold Jackpots for a Limited Time Only
The highest Spin & Gold jackpot SNG so far on the GGPN was the $100, with a possible top prize of $1.2 million. However for a limited time only, this will be boosted to a gigantic $2 million! Two other buy-ins also have boosted top prizes, as the $1 and $10 buy-ins can earn you big paydays for literally just a couple minutes of play.
Limited Time Spin & Gold Jackpots:
– $1 buy-in ($100,000)
– $10 buy-in ($1,000,000)
– $100 buy-in ($2,000,000)

Not only that, a new $200 high-stakes Spin & Gold level has also been added. To celebrate this latest addition to the schedule, the daily Spin & Gold Leaderboards have been boosted to $50,000. The highest tier will pay out $15,000 in prizes.
New Flip & Go Daily Leaderboards; GGCare and Honeymoon Promotions Continue
Don't want to play for hours in a regular MTT only to earn min cash? Well, the Flip & Go tournaments take place every 30 minutes with stakes of $0.05, $0.50, $4 and $20. You can purchase up to eight stacks, and can win bonus stacks during the flipout stage if you have a three-card straight (2x), three-card flush (2x), three of a kind (3x) or a three-card straight flush (4x).
Those bonus stacks are important but more on that shortly.
You get dealt three cards, before discarding one and entering into a flipout. If you defeat your opponents, the min-cash is secured in a matter of minutes. If that's not exciting enough, now there is also a Daily $5,000 Leaderboard for all four stakes as well. You earn points for how many stacks you buy-in with, and for the first flip bonus multiplier.
Let's say you buy-in with five stacks and get dealt three of a kind, you would get 5 + 15 points = 20 points total for the leaderboard. The highest total would be 40 points if you buy-in for eight stacks and get dealt a straight flush combo.
Another two popular promotions will continue as well. The GGCare Freerolls for all "unlucky" players will take place 45 minutes after each daily reset. Eligible players earn their chips right away after encountering certain qualifying bad beats and coolers. The top 25% of finishers in the Freeroll will then share a portion of the C$30,000 in prizes. You don't even need to be there when it happens as all hands are flipouts.
Last but not least, the Honeymoon promotion for new players provides the chance to earn up to $300 in value just by completing 30 daily missions. All you have to do is opt-in for the promotion within the first seven days of your first log-in.
Promotions Exclusive to Natural8
All exclusive Natural8 promotions will continue as well. Take advantage of the $8 Instant Deposit Bonus when you deposit a minimum of $10. There's also the First Deposit Bonus – where players can choose between a 200% match bonus (worth up to $1,000) or $100 in instant rewards (including Spin & Gold tickets plus a chance to unlock a $15 GGMasters Satellite ticket).
The $250 First Deposit Freerolls and the weekly VIP Club Freerolls are another chance to boost your bankroll further, courtesy of Natural8. And if you fancy some more free money, there are also the Hourly Freerolls with $160 in daily prize pools from Mondays to Saturdays.