Swimming With The Devilfish – A Review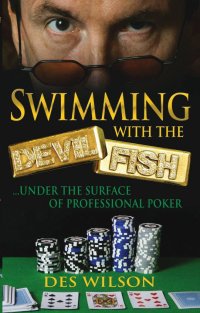 Des Wilson and I hit it off right away. We were introduced in The Vic, where I revealed to him that I'd read a slightly obscure book that he'd written 20 years ago. He was very pleased. He revealed to me that as part of his research towards writing a biography of Dave "The Devilfish" Ulliott he would be gambling his advance in the hold 'em game at the Vic. I was very pleased.
Over the course of a year Des and I met up in various casinos around the world while we chatted about the book and the game. Des had found while uncovering the Devilfish story that the British poker scene had so many interesting and colourful characters and they all had a story to tell. He decided to broaden the book out and tell the story of poker in Britain for the first time.
I must admit that I thought I might not enjoy the first part of the book. I already knew how Dave had grown up in Hull, his criminal background and how he'd changed his life and gone from building up a successful pawn broking business to becoming one of the most well known and successful poker players in the world. I had thought that maybe the early stories might be a bit grim, with Dave going through a spiral of gambling, losing and then committing crimes to fund more gambling, followed by periods of imprisonment.
In the end I enjoyed the early bits very much. I have heard one or two of the stories from Dave and some are very funny. Des does them justice and paints a vivid picture of those early days. You might think that Dave might want to cover up some of his more "colourful" past but Des has been allowed to write a "no holds barred" account, which makes for a good read.
Having decided to broaden the scope of the book Des takes us on to describe how the poker scene in London originated. He takes us from the En Passant, via a selection of spielers to The Vic. Here he stops to describe the workings of the club and the relationships within it. As someone who is there more than the furniture, I obviously loved this bit and found some of the insights spot on.
From the Vic, Des takes us on to the Midlands and a part of the book I was really looking forward to. Players like Dave Colclough and John Shipley have always been interesting to me as they are proper professionals. Neither have had much written about them, despite their enormous success, and I particularly enjoyed reading about John and his reaction to THAT WSOP Final Table.
I think it must have been hard for Des to decide which players to leave out and which to include, but he obviously couldn't cover too many as he wanted a thorough examination of each one. I thought from that point of view he got about the right number people as well as managing to cover most of the really interesting stories. Having said that I can now think of at least a dozen players I'd have liked to see included.
The Hendon Mob get a good mention and Des manages to talk a lot about the highs and lows of traveling the tournament circuit while discussing Simon Trumper. Carlo is also very honest when discussing his recent past.
The frankest interview of the lot may be the one with my good pal Willie Tann. I think having read it that Willie is slightly regretting opening up so much to Des. It is testament to Des' skills as a journalist that he got people to speak so openly to him and that is one of the book's main strengths.
Overall, I think Des has done an excellent job in describing the lives of several very interesting characters. His observations show that while he was sitting there quietly, not playing too many hands and watching, he was noticing and understanding precisely how this funny world of ours works.
---
June 16 sees the publication of the first-ever book on Europe's poker professionals. "Swimming with the Devilfish – under the surface of professional poker" profiles over 30 top players and is the work of Des Wilson, who describes here his experiences researching and writing the book.
We will be running some great excerpts from the book over the next few days and we will also have a great competition where you can win your very own signed copy.