The Ogmore Poker Tour, Leg 2 – The Rocks House
It is all kicking off in the UK right now. James Bord has won the WSOPE Main Event in London and every poker player known to man has ascended on Edgware Road for the EPT. During the event Pokerstars unveiled their latest Team Pokerstars Pro – EPT San Remo winner Liv Boeree – someone I recently interviewed. Down in South Wales we have the Ryder Cup and the Ogmore Poker Tour (OPT) Leg 2!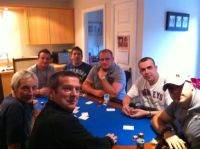 Starting Left and Going Clockwise –
Danny Mac, The Run, Too Nice, The Rock,
The Bear, Rodney and The Raincloud
of Doom
Leg 2 is being held in Steve "The Rock" John's house. Steve lives in one of those areas where new houses have been built in the middle of a shit hole. He has learnt a few lessons from leg 1. His wife and son have been evicted from the house and not locked away upstairs unlike our previous host. We also have a proper poker table that seats ten people – or 3 people if Gavin "The Bear" Bayliss is invited.
I am driving and have offered to give Terry "The Run" Welsh a lift. Only poker could bring Terry and I together in a Mini Cooper. On the way I receive a phone call from The Rock asking me to pick The Bear up. This is ridiculous – he is just too big. The Bear squeezed into the front seat and my car sunk, my exhaust striking the road beneath me. I looked at him and pointed to the side of his mouth where a piece of pizza had fostered. I say a piece of pizza it was more like a full 8 inch Pepperoni Prairie hanging from the side of his mouth. He wiped it clean.
"All right Terry?" he bellowed.
"Not too bad Gav." Terry replied.
I managed to drag the car to The Rock's house. Andrew "Too Nice" Bayliss, Tony "The Raincloud of Doom" Thorne, Rodney, Danny Mac and John "The Farm" Davies joined us. Most of the guys have spent the day chasing an egg shaped football around a pitch. The Bear has broken his finger but says it is just a scratch? I can't stand rugby so I decide to have a conversation with Terry.
"Terry, you are a plumber right?" I ask.
"Sort of." He said. "Why do you ask?"
"My bathroom is smelling of fish. Not all of the time – just occasionally. Any idea what it could be?" I ask.
"Used tampons?" He suggests. "Probably not flushed them properly."
"She doesn't use them" I tell him.
He doesn't reply. Instead he seems to be thinking.
"Terry!" I say – snapping my fingers.
Terry jumps in his seat.
"Sorry Ching, miles away. I was just thinking about tampons. I wonder where they put them when they take them out to have a pee? It's a bit like chewing gum." He said before getting up and going to the toilet.
I look at Steve and we both start laughing. I put my finger to my mouth to tell Steve to be quiet.
"They don't take them out Terry… Its the string you see… when they pull it the tampon opens and closes like an umbrella so the pee can flow without removing it." I shout.
"Well I never knew that." Terry shouted back from the toilet.
The Rock is pissing himself.
"Have you got those protein bars?" I ask him.
The Rock has got me on a strict exercise and diet plan since I gave up work and started to play more online poker.
"Yeah." Says The Rock.
He goes into the cupboard and hands me a box of protein bars.
"£20." He says.
I hand him the £20.
"£20?" Says Danny Mac. "I can get them for £15. Packet of 25 right?"
Steve throws him a look while folding my £20 and sliding it underneath his card protector.
"Are you ripping me off Steve?"
"Well I have to make a profit, Ching." He says.
Terry comes out of the toilet and sits next to me. Spying the box he asks me what they are and I tell him that they are protein bars. He asks me if he can have one and I tell him he can have the lot if he wants. After a bit of haggling Terry gives me £25 and opens the box.
"Does anyone want one?" He asks.
The whole table obliges.
The first event is a £30 freezeout. I come in first for a tidy profit beating The Run – The Bear takes third place.
"Terry, chuck us another one of those protein bars." I ask.
"Anyone else want one?" Terry asks.
Everyone obliges.
There is a knock on the door and Neil "Black 4" Farm comes crashing in. He has been out on the piss all day watching Cardiff City. He reeks of it. Then the fun really begins. Firstly, we cannot get his money off him to play in the 2nd event of the evening. Wait for it… yes you've guessed it another £30 freezeout. He is adamant he has paid and we are trying to explain to him that he has only just sat down. He grabs one of Terry's protein bars, takes a bite and then spits it out on the table.
"Neil!" Shouts Steve
"What the fuck is that shit?" Shouts Neil
"Try a Cherry flavoured one they are much nicer." I tell him laughing to myself.
Neil grabs a cherry flavoured one from the pack and puts another one in his pocket before offering the rest of the table. We all oblige. After polishing off both of his cherry flavoured protein bars Neil decided to have a fag – just at the edge of the patio doors. This drives The Rock mental, as he hates the smell of fags. He is trying desperately to ask Neil to move further out into the garden but he is having none of it. The room fills up with smoke. Steve is getting angrier and angrier. I get knocked out pretty quickly when my TT runs into Black Four's JJ. I have never been so happy to be knocked out of a tournament in my entire life. Black 4 is calling the Raincloud of Doom a prick after very hand. John "The Farm" Davies has turned the same colour as Terry's Cherry flavoured protein bars. The atmosphere has completely changed.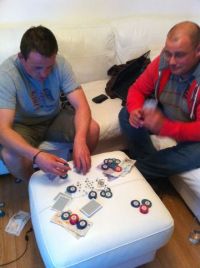 Puffet Poker L-R Too Nice and The Bear
There are four of us sat in the front room and we are playing Dealer' s Choice cash. One thing that still needs improvement on our tour is the cash game table situation. In leg 1 we sat on the floor in the kitchen and in leg 2 we find ourselves sat around a puffet. Chips and cash are sliding everywhere. I can hear Black 4 calling someone else a prick and a fish; booze has no place around the poker table.
"You had Liv Boeree the other day didn't you?" bellowed The Bear referring to the night I interviewed her in the Celtic Manor.
"Yeah, she was gorgeous." I said.
"I like it on toast." Said Terry.
We all gave each other the puzzled look.
"Toast?" we all asked in unison.
"Yeah, liver pate on toast." Said Terry.
"Liv Boeree! She's a poker player." I said.
Sometimes… just sometimes.
Terry Welsh wouldn't even know who Phil Ivey was if he was sat on our table with a sign around his neck saying Phil Ivey. I heard the front door going and just caught a glimpse of The Raincloud of Doom leaving.
"Yeah see you later prick!" shouted Black 4.
Steve decided that he was going to close the game early. It was too much for him. A few minutes later and there was a huge cry from the other room. Black 4 had been eliminated in 3rd place. Eager to get away from him, Rodney and John The Farm had split the money and made their excuses before leaving.
We finished the night with a game of Dealer's Choice cash. Black 4 quietened down when his hangover started to kick in.
"I am starving…Terry…give me another one of those protein bars." Muttered Black 4 with voice of a hangover from hell.
Terry looked down at his £25 box of protein bars. It was empty. He had given them all away.
"My wife doesn't use tampons either. She went through the change and had her womb removed. Fuck me how does she pee without a womb?" Terry asked himself.
The Rocks wife walks into the room after her night on the town.
"Whose womb?" She asks as she walks through the door.
Black 4 spews all over the table.
This article first appeared in BLUFF Europe Magazine