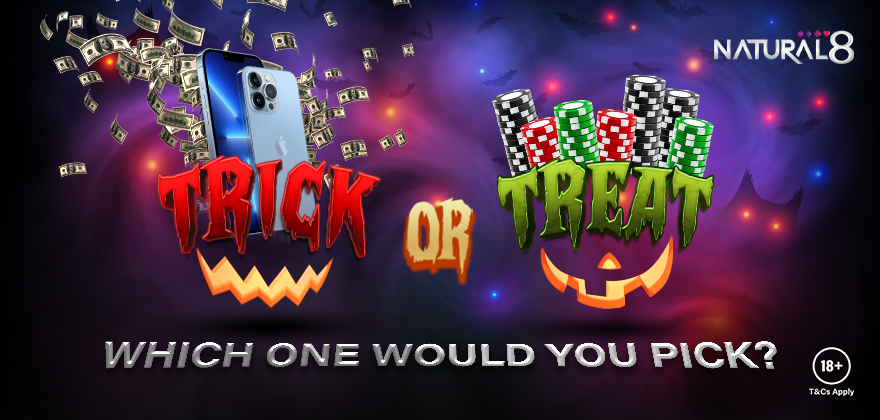 Win an iPhone 13 with Natural8's "Trick or Treat" Promotion!
Celebrate Halloween with Natural8
The spooky season of Halloween is upon us again, and Natural8 is back with an exciting "Trick or Treat" promotion. But instead of candy, you'll get the chance to win cash game dollars, cold hard cash or an iPhone 13 Pro Max!
More than $2,200 in Daily Prizes to be Won
Starting from 25th October, players will be able to sign up for the "Trick or Treat with Natural8" promotion. Players who opt for the safer choice of "Treat" will receive guaranteed cash game dollars as a prize. Players with a bigger risk appetite can opt for "Trick" where they stand a chance to win cash or an iPhone 13 Pro Max.
TREAT: Win guaranteed cash game dollars, ranging from between $3 to $8.
TRICK: Stand a chance to win $200 in cash, $500 in cash, or an iPhone 13 Pro Max!
Seven Days = Seven Missions
From 25th – 31st October, there will be one mission a day for players to complete! No two missions are the same, and they don't carry over to the next day or impact your ability to complete other missions. This means you are free to complete just one or as many missions as you want!
There is however an incentive to complete all 7, as players who do so automatically gain entry into a bonus flipout (with an additional $2,200 in prizes) happening on 1st November!
How to Participate
This "Trick or Treat" promotion is open to all Natural8 players. Visit Natural8 to find out more and don't miss out on winning your very own iPhone 13 Pro Max this Halloween!
About Natural8
Natural8 is Asia's largest online poker room and a skin on the reputable GGPoker Network. Geared towards recreational players, the site is safe, fully licensed and free to join. On top of the $120 million guaranteed prize pool each month, Natural8 also offers players extra promotions and incentives, including a $1,559 bonus for new players.