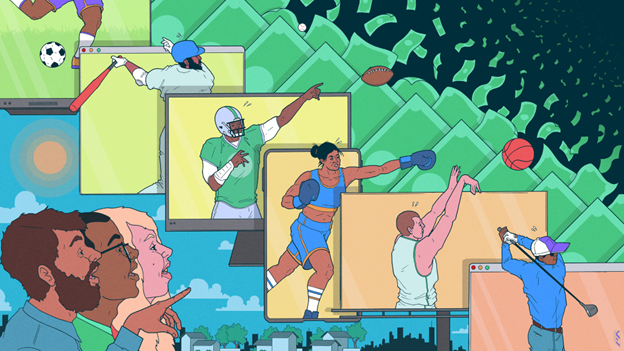 What to Expect from the Sports Betting Boom Coming in 2023
The sports betting boom is officially upon us. 31 states plus Washington DC have legalized sports wagering in some form or another, with more on the way soon. Some states have legalized sports betting at casinos and sports books only, while others have only online sports betting. Some states allow both.
There are also variations within online sports betting as some states have multiple options while others are very restrictive. Here is a breakdown of current legalization statuses.
States With the Most Access to Sports Betting
The following states have full online betting up and running, with multiple options:
Arizona
Colorado
Connecticut
Illinois
Indiana
Iowa
Kansas
Louisiana
Maryland
Michigan
Nevada
New Jersey
New York
Pennsylvania
Rhode Island
Tennessee
Virginia
West Virginia
Wyoming
All of these states except Wyoming also have physical locations to legally place sports bets. Ohio will join in the fun soon as both fully online and physical sportsbook betting opens up on January 1st. Massachusetts expects to open the windows sometime early in 2023, and Maine hopes to get started as well.
States With More Limited Options
Then there are states with limited online betting options:
Arkansas
New Hampshire
Oregon
Washington DC
Arkansas allows online sports betting but books must partner with one of the three in-state casinos and split the revenue. Up to eight books can join, but the major national names have stayed away so far. New Hampshire and Oregon only have one online sportsbook (DraftKings). Washington DC has licensed operators but is very restrictive. Federal properties are geofenced to ban online betting, and additionally, the operation run by the DC lottery, GameBetDC, is the only app that will work throughout the District. The three states and DC also all have physical sportsbooks.
Then there are states with legal sports betting but at physical sportsbooks only.
Delaware
Mississippi
Montana
New Mexico
North Carolina
North Dakota
South Dakota
Washington
Wisconsin
As to the rest. Florida actually had online sports betting briefly in 2021 before getting tied up in litigation and California just rejected two propositions. Neither state looks remotely imminent. Other states are at various legislative stages. But it takes time to go from some sort of approval to hashing out a statewide policy to allocating licenses to books actually opening up shop.
How To Sign Up, Deposit, and Bet
For anyone that lives in a state with fully legal online sports betting, signing up is a quick and easy process. BetMGM is currently legal online in Arizona, Colorado, Illinois, Indiana, Iowa, Louisiana, Maryland, Michigan, New Jersey, New York, Pennsylvania, Tennessee, West Virginia, and Wyoming. Plus they offer a very generous welcome bonus. Just use the bonus code at BetMGM to get $1000 in free bet insurance on your first bet.
Once signed up, deposit up to $1000 and then place a bet. If the wager wins, you keep the proceeds. If the bet loses, BetMGM will credit your account with a risk-free bet equal to the value risked on the first bet. The offer applies only to the first bet.
All books have a minimum age of 21 to sign up and wager. The sign-up processes always involve passing along basic info such as name, mobile phone, email, address, and the last four digits of your SSN.
As for deposits, the books will accept any or all major credit and debit cards, direct bank transfers, Paypal, other eWallet sites such as Skrill, prepaid cards, and deposits at physical locations. Funds are available in seconds. Withdrawal options are more limited and can take up to 1-3 business days, depending on the methodology.