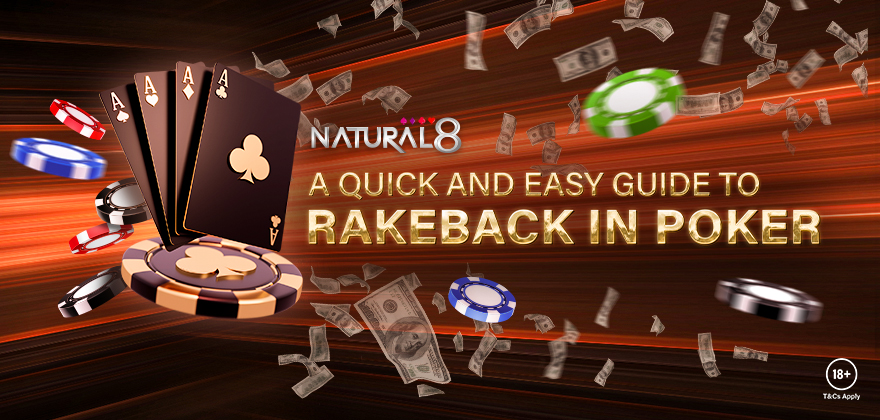 What Is Rakeback and How It Benefits You
You might have noticed that a small percentage of your pot/tournament entry fee is taken by the casino whenever you play cash game poker or register for a tournament. This is called the "rake" and there's no running away from this. With rakeback promotions, however, you can get back a portion of the paid rake as you play.
As the name suggests, this is a type of promotion that will periodically return some of your rake. The concept is easy; the more you play, the more you're rewarded. Even if you only play periodically, you'll still often get a little something back in your player account at the end of each week/month.
Rakeback can be in the form of tickets or cash or both, and each online poker site has its own rakeback promotion. However, the one that's best for players is straight-up cashback, so make sure you double-check which one your poker site offers before you sign up.
At Natural8, we understand the importance of rakeback. Without it, the poker ecosystem would have far fewer winning or break-even players. The best players and the poker sites would quickly suck up all the money, leaving lots of empty tables and empty wallets behind. We want our players to enjoy their time here, and this is why we offer a fantastic Fish Buffet Loyalty Program in order to give back to our players.
Fish Buffet Loyalty Program
With the Fish Buffet program, you can earn up to 100% cashback! Earn Fish Points (FP) when you play your favourite poker or casino game and turn those Fish Points into cash. As you continue to earn FP, you can also climb the ranks, earning more cashback with each rank you climb. As soon as you've hit the number of FP you need to reach the next rank, you can spin a wheel to determine your cash prize.
For those who prefer a fixed cash back, Natural8 has your back. With the Platinum Ranks reward tiers, you can get up to 60% fixed cash back weekly, no questions asked. There's no reason you should miss out on receiving cash back on your play. You're automatically signed up to this program as soon as you join Natural8; no opt-in is necessary.
About Natural8
Natural8 is Asia's largest online poker room and geared towards recreational players. A skin on the reputable GGPoker Network, Natural8 is fully licensed and authorised. Anyone can join for free, and there are no hidden fees.
On top of the $120 million guaranteed prize pool for tournaments every month, Natural8 also offers plenty of promotions for new players. These specials amount to a total of $1,858 – easily one of the best in the online poker scene – and include: