For Richer, For Poorer: A Love Affair With Poker – Excerpt 3
For Richer, For Poorer: A Love Affair With Poker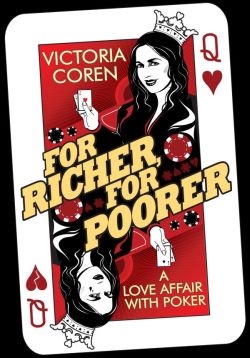 Excerpt Three
Victoria Coren's long-awaited poker memoir, For Richer, For Poorer: A Love Affair With Poker is published on September 17th 2009. It's a life story of twenty years playing poker, from childhood to 2009 Team PokerStars Pro, full of colourful stories from the game and all the characters from the poker scene. Vicky also goes through her final table at the 2006 London EPT, hand by hand, explaining her thought processes on route to victory.
"For Richer, For Poorer seizes the reader with its first sentence and never lets go. Victoria Coren writes, on several levels, with wit, honesty, and perfect freshness." – Martin Amis
"This miseducation of a poker player is terrifically funny and terribly moving. Victoria Coren plays cards like a demon and writes like an angel." – Patrick Marber
It's always good to support your local bookshop if you can, but it can also be bought on Amazon. Every day this week we have a caption competition where you can win a signed and personally dedicated copy of Vicky's book. Enter in the thread on our forum.
3. The Vic
'You vuggin' sheet!' Stavros is screaming. 'You vuggin' cun', you tell me wha' I can' do?'
Each word is punctuated by a sharp stab of the forefinger, propelled by the full weight of angry Greek bulk behind it. Rumour has it that the myth of the minotaur began when Stavros lost his temper during a weekend minibreak in Knossos.
Pedro, the tiny Glaswegian master of low-stakes poker and alternative medicine, attempts to cool the situation by waving a miniature electric fan in the Greek's direction. This drives Stavros into greater spasms of fury. I duck backwards from my vantage point near the bar.
Jeff Leigh, the crop-haired, iron-muscled card room manager who once beat a semi-professional boxer half his age in a circuit-training competition, holds his hands up for quiet. Jeff can always manage trouble without backup – which is lucky on this occasion, because his two colleagues are tied up at the desk, where Dave Binstock is making a long complaint about something completely different.
'It's absolutely appalling, Brian,' Binstock is saying. 'We pay ten pounds an hour, and they tell me the Sunday roast is finished when I've only come in half past five…'
'The what?' says Brian. 'Sorry, David, I wasn't listening.'