For Richer, For Poorer: A Love Affair With Poker – Excerpt 2
For Richer, For Poorer: A Love Affair With Poker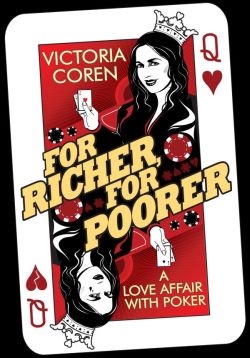 Excerpt Two
Victoria Coren's long-awaited poker memoir, For Richer, For Poorer: A Love Affair With Poker is published on September 17th 2009. It's a life story of twenty years playing poker, from childhood to 2009 Team PokerStars Pro, full of colourful stories from the game and all the characters from the poker scene. Vicky also goes through her final table at the 2006 London EPT, hand by hand, explaining her thought processes on route to victory.
"For Richer, For Poorer seizes the reader with its first sentence and never lets go. Victoria Coren writes, on several levels, with wit, honesty, and perfect freshness." – Martin Amis
"This miseducation of a poker player is terrifically funny and terribly moving. Victoria Coren plays cards like a demon and writes like an angel." – Patrick Marber
It's always good to support your local bookshop if you can, but it can also be bought on Amazon. Every day this week we have a caption competition where you can win a signed and personally dedicated copy of Vicky's book. Enter in the thread on our forum.
2. Tuesdays
They come every week, same faces, same games, same money. I make dinner, but they can be a tough crowd. They never say thank you. One time, I was so irritated that I scraped all their dinners into the bin and they had to order a pizza.
Trouts eats meat. Only meat. No vegetables, barely even a potato. He likes a platter of beef, nothing on the side.
The Sweep has a delicate constitution. He is always either starving or feeling sick because he ate too much. He'll say, 'I'm dying of starvation, when's dinner, when's dinner?', then take one bite and groan, 'I'm bloated.' He can't bear to play poker with anyone who has a cold. He thinks that if he sits too close to an open window, he might get polio.
At our Christmas game, he always refuses to wear a paper crown because he says it gives him a headache. He thinks he's got a 'sensitive head.' Tonight he is nervous because his Crème Egg has got a hole in it, and The Sweep is afraid – genuinely afraid – that someone at the factory might have made the hole and injected liquid mercury into it.
'I'm losing again,' says James. 'I can't believe Trouts will go home with another cheque of mine in his pocket. That's terrible.'
'It is terrible,' agrees Trouts. 'You must start bringing cash.'