For Richer, For Poorer: A Love Affair With Poker – Excerpt 5
For Richer, For Poorer: A Love Affair With Poker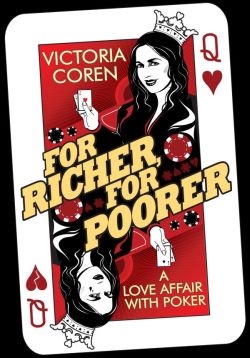 Excerpt Five
Victoria Coren's long-awaited poker memoir, For Richer, For Poorer: A Love Affair With Poker is published on September 17th 2009. It's a life story of twenty years playing poker, from childhood to 2009 Team PokerStars Pro, full of colourful stories from the game and all the characters from the poker scene. Vicky also goes through her final table at the 2006 London EPT, hand by hand, explaining her thought processes on route to victory.
"For Richer, For Poorer seizes the reader with its first sentence and never lets go. Victoria Coren writes, on several levels, with wit, honesty, and perfect freshness." – Martin Amis
"This miseducation of a poker player is terrifically funny and terribly moving. Victoria Coren plays cards like a demon and writes like an angel." – Patrick Marber
It's always good to support your local bookshop if you can, but it can also be bought on Amazon. Every day this week we have a caption competition where you can win a signed and personally dedicated copy of Vicky's book. Enter in the thread on our forum.
5. The Hendon Mob
Joe's closest friends in poker are Ross and Barny Boatman, who I remember from Archway, and Ram Vaswani, a former snooker player who turned to poker because 'It's similar really – going around, hustling where you can.'
They all met in the London cash games, they travel together to tournaments in Baden or Atlantic City, they lend each other money and swap shares of each other's action. They refer to themselves light-heartedly as 'the Poker Rat Pack' or 'the Hendon Mob'.
I like the second nickname better. The idea of Hendon, a trafficky suburb of North London where a couple of them live and where they all play poker in various private games, garnering a few hundred here or there, gives their little gang an Ealing Comedy flavour. When I was a kid, I used to watch Disney films at the old Classic cinema in Hendon Central. A collection of bagel bakeries under a flyover, it just couldn't be less scary.
Joe, Ram and the Boatman brothers have ideas about how to do something with this mob concept, something that could take poker to another level. With the success of Late Night Poker, they think there is further potential in TV and foresee a growing audience for this colourful world. They want to launch a website. They think poker players could be sponsored like other sportsmen.
Nobody really listens to them. But it's good to keep having ideas.