For Richer, For Poorer: A Love Affair With Poker – Excerpt 1
For Richer, For Poorer: A Love Affair With Poker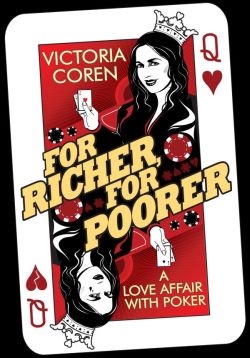 Excerpt One
Victoria Coren's long-awaited poker memoir, For Richer, For Poorer: A Love Affair With Poker is published on September 17th 2009. It's a life story of twenty years playing poker, from childhood to 2009 Team PokerStars Pro, full of colourful stories from the game and all the characters from the poker scene. Vicky also goes through her final table at the 2006 London EPT, hand by hand, explaining her thought processes on route to victory.
"For Richer, For Poorer seizes the reader with its first sentence and never lets go. Victoria Coren writes, on several levels, with wit, honesty, and perfect freshness." – Martin Amis
"This miseducation of a poker player is terrifically funny and terribly moving. Victoria Coren plays cards like a demon and writes like an angel." – Patrick Marber
It's always good to support your local bookshop if you can, but it can also be bought on Amazon. Every day this week we have a caption competition where you can win a signed and personally dedicated copy of Vicky's book. Enter in the thread on our forum.
1. Childhood
When my brother and I were little, Grandpa Sam gave us a comprehensive education in blackjack. Here was the lesson: he was always the dealer, and we always lost. Sometimes we lost enough to buy him a Fry's Peppermint Cream. If he was really in form, enough to buy him a packet of Park Lane. But at the first sound of our parents' key in the front door, he'd move like a panther. By the time my mother and father had walked the three steps to the kitchen, the money had vanished and he was sitting there in all innocence, 'showing us a card trick'.
My father is not going to get sick on the dogs and the football, go skint and lose everything, like his uncles did. My father is a self-made man. He went to university and learned to speak 'properly'. He edits a magazine. He was invited for lunch with the Queen, spent all month planning elegant bon mots for the palace table, then the Queen took one look at him and asked, 'Why don't workmen wear boots any more?' Canny woman, that Queen. She sniffed a rum bloodline, just like the girls at my school. Nevertheless, some say it's the best girls' school in the country. My father's damned if his children aren't going to benefit from his hard work. They're not going to be poor. They're not going to live and die in Southgate. And they're certainly not going to be gamblers.