For Richer, For Poorer: A Love Affair With Poker – Excerpt 4
For Richer, For Poorer: A Love Affair With Poker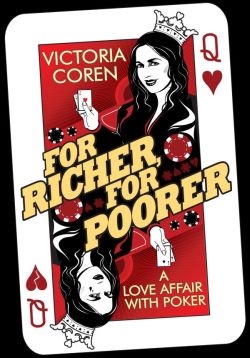 Excerpt Four
Victoria Coren's long-awaited poker memoir, For Richer, For Poorer: A Love Affair With Poker is published on September 17th 2009. It's a life story of twenty years playing poker, from childhood to 2009 Team PokerStars Pro, full of colourful stories from the game and all the characters from the poker scene. Vicky also goes through her final table at the 2006 London EPT, hand by hand, explaining her thought processes on route to victory.
"For Richer, For Poorer seizes the reader with its first sentence and never lets go. Victoria Coren writes, on several levels, with wit, honesty, and perfect freshness." – Martin Amis
"This miseducation of a poker player is terrifically funny and terribly moving. Victoria Coren plays cards like a demon and writes like an angel." – Patrick Marber
It's always good to support your local bookshop if you can, but it can also be bought on Amazon. Every day this week we have a caption competition where you can win a signed and personally dedicated copy of Vicky's book. Enter in the thread on our forum.
4. Celebrity Gate-crashers
Britain's biggest soap star, Dirty Den, is ready to do battle with mutton-chopped racing pundit John McCririck. World snooker champion Mark Williams and royal stepson Tom Parker Bowles are preparing, in all seriousness, to take on ventriloquist Roger de Courcey. Slender Welsh auteur Jon Ronson is squaring up against giant black cricketer Gladstone Small. Actor Keith Allen, the hard man of Dickens adaptations, is looking unprecedentedly nervous as bespectacled inventor Sir Clive Sinclair enters the room.
I have met Keith Allen before. Every trendy private members' club in London is now trying to run a poker game, and I was invited to a tournament at the Groucho in Dean Street. Keith Allen advised all the people on his table to simply stop playing while everyone else in the room got knocked out, to guarantee themselves prize money. I told him I would consider that cheating. Keith Allen suggested that we 'take it outside'. Always irritated by any threat of bullying, I agreed immediately. Allen, perhaps realizing that he might look a bit of an idiot if he took me onto the doorstep of a trendy London club and punched me, changed his mind and sat back down.
Hello again, Keith…