27% Rake Back at Full Tilt Poker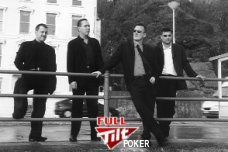 It's nearly two weeks now since we made the announcement about us joining Full Tilt Poker. We have had a huge amount of positive feedback and the news has appeared in several newspapers and websites around the world.
Many of you will already have seen and chatted with us online. Two subjects keep coming up in conversation and in e-mails. The first is the Full Tilt Store. Currently the FTS only ships in the USA. We are pleased to say that this is going to change very soon and all of you, wherever you are, will be able to get some great Full Tilt merchandise sent to you.
The second is the situation regarding Rake Back. We are pleased to be able to tell you that every player that signs up to Full Tilt via the Mob will get 27% rake back paid direct into their account every month. This is the maximum rake back you can get at FTP anywhere. And don't worry if you have already signed up via this site – The hundreds of you that have already done so will get the 27% rake back and this will be back dated for all of you that have already played.
There is still time to qualify for our Soccer World Cup Final giveaway on June 17th and win two tickets to the biggest sporting event in the world. There are also the much sought after personalised FTP soccer shirts to be won. Qualifying ends on Thursday June 15th and it only takes about one hour of play to earn the 100 FTP points that you need to qualify.
Full World Cup Freeroll Details Here.
For Details about the 27% Rakeback click here.
There is also a 100% Sign Up Bonus up to $600 and 100 FREE WSOP Seats to be won at FTP.