Dial a Dealer.com's Early Christmas Present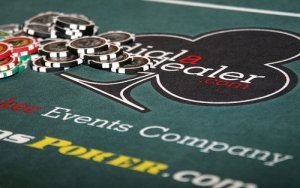 On the dialadealer.com website it reads:
Enjoy playing poker at home but don't like the hassle of self-dealing? Want to run a sophisticated poker night to entertain clients or impress your mates?

Dialadealer.com will do this for you. We will provide top specification tables, chips, cards and most importantly professional dealers for your poker night, at a venue of your choosing. We will provide a sheen of exclusivity to your poker game, and it couldn't be easier to arrange.
Prices start from £130 for the evening but Dialadealer.com has teamed up with theHendonMob.com to give you this great service for gratis.
They will run your poker night completely FREE.
These are the details of the offer:
As part of the promotion for the upcoming Dialadealer.com 'Home Poker Series' Dialadealer.com are giving away a whole series of Home Poker Packages (includes dealer, table, chips, chairs and cards).
What is the catch I hear you ask?
You must hold your game within 50 miles of London.
You must hold your game before 31st January 2007
You must be a member of the Hendon Mob Forum
All you have to do is send an email to [email protected] and let them know the date of your event and your Hendon Mob Forum user name. If one of their dealers is available on your chosen night they will book you in for the best thing in live poker at the moment. If they do not have a dealer available, they will let you know of the next available date. So don't delay, this offer is on a first come first served basis.
Note: 1 free package per friend/group only.
Here are some of the various press releases regarding DialaDealer.com: