Vegas Insider 2007 May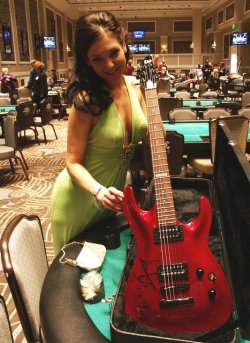 Brandi with Vince Neils guitar
It is a job noone can hold onto. Robert Daily, the 2006 WSOP tournament director, has parted company with Harrahs a month before the 2007 series commences.
It is one year since Brandi Hawbaker became the darling of the poker forums. Now she has left Las Vegas and her part siamese kitten to try her luck in Florida. I am actually a housemate of the cute white kitten. Replacing Brandi could be Anna Wroblewski. Anna started the month in a minimum wage job but she satellited her way into the $5k tournament at the Bellagio. 48hrs later she was depositing over $300k into a box at the casino. She entertained the media row when inviting her table to drink shots of tequila in the main event, which was included with her win. Finally she crossed the Flamingo Rd to win the Ladies event at the WSOP circuit event at Caesars.
This past weekend I have been to one of Vegas' newest casinos " South Point" to visit the set of " Poker after Dark" . The six player tournies are filmed two per day and aired six nights a week in the US. The series saw the return to the screen of the popular Shana Hiatt. Shana has been living in Vancouver. She was reduced to tears when asked to use the phase " war of attrition ". When she returned the script had changed to " heads up war.
Former Absolute pro Lacey Jones will be attempting the same job for Bluff media at the WSOP. Along with M.Mizrachi and Mark Seif, Lacey was dropped without warning by the online site.
Popular WPT announcer Mike Sexton has announced his engagement to Karen who works in Doug Dalton's office at the Bellagio.