Vegas Insider 2007 June
While I may be singing " Long Hot Summer has passed me by" in six weeks time I feel this blog will sound more like the young angry Paul Weller.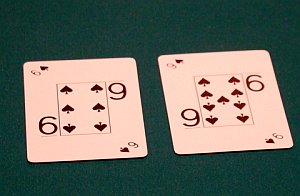 New playing cards
Lets start with the WPT.The scheduling of the Mandalay Bay so close to the WSOP (in fact the final two days clashed with the WSOP) backfired with only 227 entering the ME. The other events were a disaster with small fields. The most interesting final table was the $2.5k event where Erica Schoenberg defeated Anna Wroblewski heads up with Jonathan Little also at the table.
The WPT Mirage main event Day1 was held in the race book on the day of the Preakness Stakes. Imagine your Ladbrokes holding a tournament on Derby Day. Then straight on to the WSOP where the new playing cards lasted hours. Look at the photo and you decide.
The players who turned up to play Events #1+2 had a four hour wait to register. The only available parking has been in a remote lot as Harrahs try to sell their $1k package that includes a VIP room, parking space and basic use of the Spa.It isn't a bad deal for someone like myself who will be attending everyday. I could eat $1k worth of food then retreat to the steam room on dinner breaks.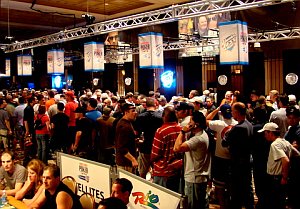 WSOP 2007
So far I have seen Ram, Neil Channing, Mark Teltscher, Stephen Liu and Devilfish from the old country.
No hospitality suites this year to grab swag and peanuts from.It will be interesting to see who rents space at the Lifestyle Show which is usually an interesting diversion. I hope to see many of you out here.I already have an allnighter under my belt as I stayed to see the finish of the casino employees event.
The media drinking hole seems to be Ellis Island with its dollar beers and 24hr cafe.