Vegas Insider 2007 April
Given my schedule for the next 4 months where I doubt I will get much sleep because of the WPT Championship at the Bellagio, Caesars WSOP Circuit, Mirage, Mandalay Bay and then the marathon that is the WSOP there is no way I am going near a casino in the next two weeks! So I might as well submit this next article now.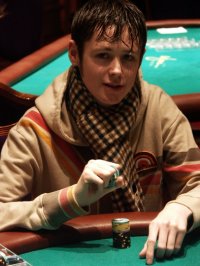 No stars this month. I did however meet Chris from Blackburn. He was playing the Wynn evening second chance tournaments. We have mutual poker friends Steve Walmsley and Mark Greenwood. (Looking forward to seeing you at the WSOP) Chris considers himself Blackburn's answer to Patrik Antonius. Just look for the young lad with the Burberry scarf.
A $10k event with only 28 players? It wasn't a decade ago but this month at Binions part of the UPC series. The young guns of poker dominated with Alex Jacob winning, Vanessa Rousso second and Shannon Shorr fifth. Average age of the trio? Just 23.
David Benyamine and Vanessa didn't take long to get snapped up as Full Tilt Pros. I wonder if Mansion discarded their only Pro left, Marc Goodwin, whether he would be snapped up as quickly!
Michelle Lau, the women who put the bird in railbird, has been hired to be Marcel Luskes PR in Las Vegas. A graduate of the USC in Boulder she moved to Las Vegas after tiring of the good life in Hawaii.
Chantel McNulty is the runaway leader in my sites search engine. Why? My spies informed me she was having breast implants last week. She made her first public appearance yesterday at the WPT in Reno. I will try to bring you some great pictures from the Bellagio.
There is bad new for those of you coming over for the WSOP this year: One of the few good things about the Rio has disappeared, The Tilted Kilt Pub is being replaced by a McFaddens.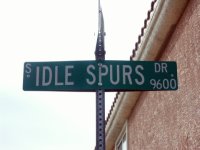 Do you think this street was named by a disgruntled Tottenham fan?