Vegas Insider: 2008 October
The players are in no hurry to return to Vegas after a wallet emptying WSOP.
Jeff Duval will testify to that as he warmed up for the WSOPE in a deserted Bellagio poker room.
Even with the Festa al Lago in its third week more people enter the Fontana lounge to watch the fountains than to play poker.
The sponsored pros had a stopover in Niagara on their return from London or Aruba, the casual players thin on the ground for the tournament with a minimum buy in of $2k.
The $5k last weekend only attracted only 44 entries. Many of those were wealthy individuals. For example Lakers owner Jerry Buss, Rene Angelil, Wheel of Fortune billionaire Stan Fulton, Wayne Boich (not sure what his business is but he always has a bodyguard with him) and Alan Smurfit.
If Roland de Wolfe is in town he hasn't made it past the Wynn blackjack tables.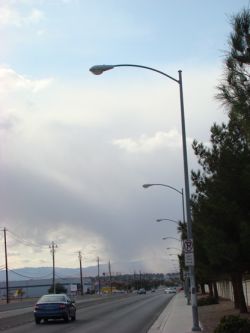 Like a Hurricane
If he was there on Saturday he may have seen Sarah Ferguson + Rod Stewart walk by as they attended the Andre Agassi charity evening.
Rod dueted with Sheryl Crow and Fergie enjoyed dinner.
After a disastrous US version of "Viva Blackpool" lasted only one episode, ABC have remade "Life on Mars" with the action on the streets of NY rather than Manchester. You can see a trailer on abc.go.com.
Also from the streets of Manchester, the Gallagher brothers are to play at the Palms casino in December. Since opening last year the Palms concert venue has taken over as the premier venue in town from the Hard Rock and the House of Blues.
On the way to the Bellagio on Saturday I witnessed what Neil Young (the singer not the ex Man City player) might describe as "Like a Hurricane".