Vegas Insider: 2008 July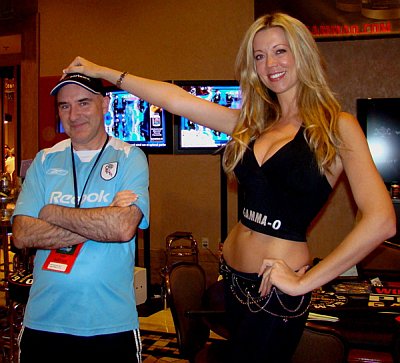 Steve Hall with a Girl Model
A trip to the Bellagio this week revealed a few strays (Hello Sarah Bilney + Valter Farina) and some so broke that even a trip on the megabus to LA would have required a visit to one of the many pawn shops.
The public perception of the poker community has reached a new low with the online poker scandals and the news that WSOP final table player David Rheem has an outstanding warrant in Florida. So I wasn't thrilled to see banned racehorse trainer Patrick Biancone playing in the Hustler ME last week. The Frenchman, who finished 12th, was banned from the Sport of Kings after snake venom (an illegal painkiller),was found in his stables.
While that ME attracted 197 players only 67 anted up at the Orleans Open down from 219 in 2007. The winner was Israeli born David Levi.
For the first time I really enjoyed the WSOP.Nothing to do with the poker. I was invited to most of the parties which take place just before the ME. I was also welcome to use most of the hospitality lounges where I watched Euro 2008,learned to play Wii golf and would have definately made the final table in a scone eating tournie had there been one.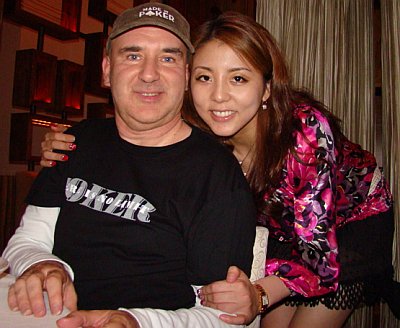 Steve Hall with Kim Wooka
My dinner at the Venetian with Neil Channing, Andy Ward and Keith Hawkins plus family was another highlight. As was dinner with Kim Wooka at Shanghai Lilly's at MBay, very different from the Chinese restaurant's in Bolton.