Vegas Insider: 2008 February
I have just returned from a brief visit to the Venetian where the deep stack tournament is nine events deep. The Venetian are so delighted with the turnout that they have already announced another deep stack tournament to compete with the Bellagio in April.
If you visit during the WSOP you will have more ways to lose your bankroll than in a bookies on a Saturday afternoon. As well as the Rio, the Venetian and Bellagio will again be offering an alternative. Lets hope they stagger their starting times at least.
Some veterans of the Vegas poker scene played in the $500 Omaha8 today. Chris Bigler, Max Stern, Maureen Feduniak +Bob Feduniak joined by another 180 including Joe Tehan+ FT Jason for a rare opportunity to play deep stack Omaha8.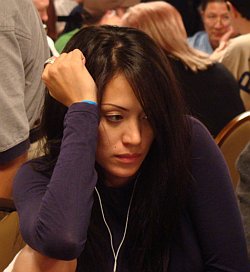 Diane Nguyen
Good news from the Commerce where my friend Diane Nguyen is at her second final table of the LAPC. Diane returned to Calgary broke after the last Commerce. She enrolled in a course to be a dental hygenist, somehow saved enough to enter the $500 with rebuys ten days ago and cashed for $100k in a four way deal. She bounced in the Ladies event ,where Vanessa Selbst beat Erica Schoenberg in a good quality final table, before finishing second in chips to David Pham in yesterdays $1k event.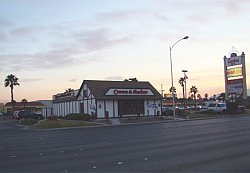 Crown & Anchor
Away from poker McFaddens has replaced Tilted Kilt at the Rio. Unless Irish pubs are now showing Lakers games and serving Budweiser this place isn't authentic. Much better to share a taxi to the Crown + Anchor's second pub,this one close to Chinatown. Behind the C+A is Pho So 1 a Vietnamese soup restaurant a favourite of Men Nguyen, Scotty Nguyen, David Pham and David Tran. At $5 a bowl even I can afford to go there.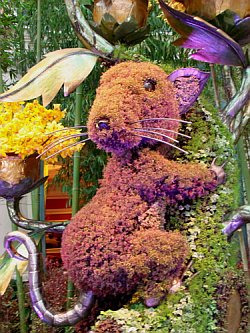 The year of the Rat
The year of the Rat is here and the Bellagio has a fine display in the conservatory.