Vegas Insider 2007 March
One of the highlights of living in Las Vegas, apart from the 70 degree weather in March, is the approachability of celebrities.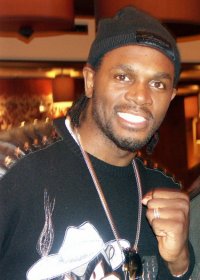 Mark, a Brit who works security at a British pub in Prague, tipped me off that boxer Audley Harrison had been playing the Wynn classic poker tournament. I met Audley the next day in valet.
"Nice Bentley " I said.
"It is a poor man's Bentley, a Chrysler!" he replied.
Audley is enjoying a winter break in Vegas before driving, in his Chrysler, to Big Bear California, to prepare for his next fight which should be at Wembley later in the month.
You may be familiar with Joe Sebok's prop bets with Gavin Smith. Joe had to dress as Superman one day at the WSOP and a bear cub in a diaper on another. It seems he may have inherited this trait from stepfather Barry Greenstein who on High stakes Poker this week said, "LOL donkaments". By doing this poker forum geeks had pledged to make a charity donation which is well into five figures.
Their latest bet, a last longer in the WPT, now means that Gavin Smith will be having Joe Sebok's initials permanently tattooed on his arse. As their prop bets get wilder the WSOP this year could be very interesting.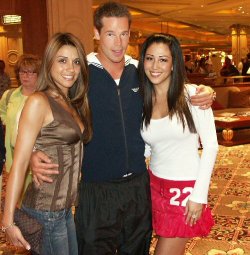 Poker IT girls Jean Gluck and Maya are both pregnant. Maya's boyfriend is Patrik Antonius.
Erica Schoenberg is looking for a new sponsor after Mansion left the U.S. market. Her boyfriend David Benyamine had been wearing the Mansion logo but was wearing Full Tilt at NBC's Heads Up tournament filmed at Caesars this weekend. It looks like his Mansion sponsorship was short lived as well.
Player of the week is Paul Wasicka. Paul finished 4th in the WPT event at the Commerce on Thursday. He travelled straight to Vegas and won the NBC Heads Up and $500k. A special mention goes to Shannon Elizabeth Fagal who beat Rene Angelil, Jeff Madsen and Barry Greenstein before losing to Wasicka in the semis.
Visit Steve's own site: www.pokerfolio.com.