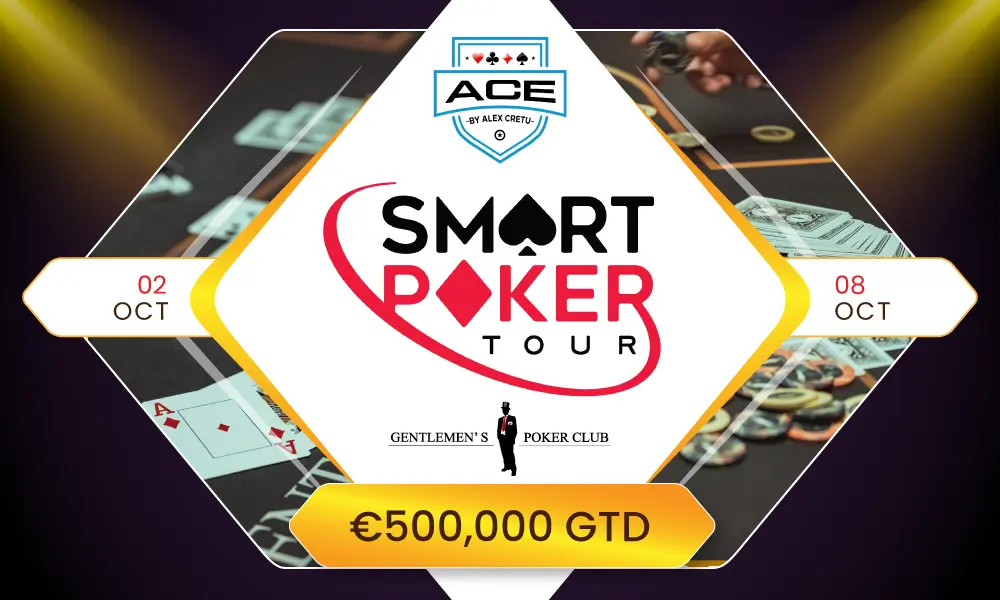 €500,000 Guaranteed as Smart Poker Tour Returns to Bucharest
Earlier this year, the Smart Poker Tour (SPT ) made its first stop outside of Bulgaria and gathered its largest field thus far at the Gentlemen's Poker Club in Bucharest, Romania. Everything went so well that the SPT is heading back to Bucharest in a month's time. SPT #9 Bucharest will run from October 2-8 at Gentlemen's Poker Club with even more guaranteed money up for grabs.
Not only has the guarantee to the Main Event been raised to an SPT record-setting €300,000, but the festival will also feature a €100,000 side event to get the party started and follow it up with another €100,000 in guarantees to close out the festival.
The Smart Poker Tour has become one of Europe's most popular new tours. SPT allowed players to collect the Bulgarian flag at stunning locations and will now once again, offer the Romanian flag in the country's capital city.
€300,000 Guaranteed SPT #9 Bucharest Main Event
The SPT #9 Bucharest Main Event features three starting days, a €500 buy-in, and a €300,000 guaranteed prize pool. Day 1A kicks off on Thursday, October 5 at 2 pm local time. Players start with 60,000 chips and play 30-min levels. Unlimited re-entry is available for the first 14 levels of each Day 1 with an option to buy directly into Day 2. A Day 2 buyin will cost €1,600 and players will start with a 200k stack.
There is a satellite on October 4th for Day 1A of the Main Event with 10 seats guaranteed followed by another for Day 1B on October 5th.
Another €200,000 Guaranteed Between Side Events
The festival gets underway with a €330 event that boasts a €100,000 guarantee. There are three starting flights on October 2-3 with Day 2 on October 4th. Following that is a €225 Mystery Bounty event which carries a €30,000. The Mystery Bounty is also a 2-day event on October 4-5. The High Roller event comes with a buyin of €1,000 starting on October 7 offering €50,000 guaranteed. The final event is a €250 Last Chance closing out the festival with a guarantee of €20,000.
The full schedule can be found on the Smart Poker Tour's THM Landing page and the SPT website
The Gentlemen's Poker Club has 27 poker tables, fun zones, gambling games, betting, and a bar. The poker room is located in the heart of Romania's capital – Bucharest on 29-33 Ion C. Brătianu Boulevard. GPC strives to create the most pleasant and safe meeting place for players, locals and tourists, amateurs, and professionals.