The Full Tilt Poker Strategy Guide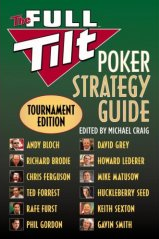 Full Tilt Poker Strategy Guide
Book Review – Simon Galloway
The Full Tilt Poker Strategy Guide – Tournament Edition
Edited by Michael Craig, written by 12 Full Tilt Pros
Publisher: Warner Books
Approx pages: 435
Price: $29.99
Rating: 8.5 / 10
Two things raced straight through my mind when I learned that an advance copy of this book was heading my way. The first was that I just couldn't wait to turn to the sections written by the enigma that is Ted Forrest, and it turned out that was Erik Siedel´s exact sentiments too. The second thought was perhaps more facetious as I lazily wondered if they would give Matusow a section on tilt control and money management. Fortunately he picks up the O8 section, and very good it is too.
So the list of contributing authors reads as a fairly impressive hall of fame; Andy Bloch, Richard Brodie, Chris Ferguson, Ted Forrest, Rafe Furst, Phil Gordon, David Grey, Howard Lederer, Mike Matusow, Huck Seed, Keith Sexton and Gavin Smith. Many of those authors are highly enough thought of in their own right to make picking up a book by them an easy decision, so as decisions go, deciding to buy this book should be something of a cinch. A credit also to Michael Craig in the way he has edited and directed the various authors. The ´how to´cook-books of the early stages are now well understood by most. Likewise, the ´level 2´books written by Harrington, Sklansky and a couple of others are now widely out there and understood. In my view, there is little point in releasing a new book that covers much of the same material and from much the same angle. The new standard has to be ´here is some new material' or at least some old material presented from a refreshing viewpoint with dressed examples. Craig has given several of these authors the directive ´write something that has never been written about before´ and I think that sets the bar quite nicely for where Level 3 books need to be pitched. Any future book written by a highly skilled player and approached from that angle deserves to be bought.
A couple of interesting chapters are presented straight away. Chris Ferguson discusses how (and when) to bet. The text is recent enough to have accommodated the fact that everyone has now picked up on continuation betting and so hand examples include when not to bother betting in this way. Perhaps what I like most about this chapter is also evident in several other chapters. Namely, that even the pros can't agree the perfect strategy, many of them approaching bet sizing and position from opposing directions. It is healthy not to cover this up, amplifying the fact that many differing styles can get the job done, each style comes with its own set of pros and cons that have to sit well with your own psyche before you adopt them into your own game.
Next up, Lederer takes us through how to play smallball. It is very interesting reading and for those readers that get the opportunity to play deep stacked tournaments, I am sure you will enjoy putting some of this into action. For those readers who are used to 1000 starting chips and a fast clock, it is difficult to play smallball when everyone else is playing 1-move poker.
Andy Bloch has gone up in my estimation after reading his chapter on pre-flop play. It's not that he was low in my estimation beforehand, simply that I had very little exposure to his play and/or writing before this. Andy has created his own tables of hand rankings with some (optional) mathematical support. He also has produced a table to challenge Sklansky-Chubukov´s ratings. For those of you who don't know what that is, make it your mission to find out in the very near future. Andy calls out Sklansky´s system for being too tight. To be fair to Sklansky, he does present his system in a way that sets a ´tight' baseline from where you can assume that any rating which tells you to jam with your hand must in actual fact, be in better shape than calculated because of the unrealistic assumptions that Sklansky has built in. However, to be fair to Bloch, rather than just calling him out, he presents an alternative system with more realistic assumptions. My maths isn't good enough to call either of them out, but I have witnessed so much play in live tournaments that could instantly improve by reading either system immediately.
Back to Ferguson for a chapter on post flop play and this is a very good one. So many players at lower levels seem to play the bulk of their poker pre-flop, partly because they realise they have weak post flop skills. Well Ferguson is here to hold your hand through the later streets and presents his ideas in a way that is designed not to give you too many difficult decisions to make. Some decisions are inevitable, of course, and accepting that you will get some of them wrong is all part of poker.
Gavin Smith then got something of an easy topic in presenting how to use a big stack. The basic principle of betting an amount that is peanuts to you whilst putting people to the test for their tournament life is straightforward enough, you would think. Again, I have witnessed plenty of players that have no idea how to put their recently-found chip mountain to good use that this section is going to be a good read for some. I even found myself speeding up as I read this chapter as Smith regales us with his super-fast style and his willingness to get in the way and dance around in a lot of pots.
Nearly half the book is devoted to non-NLHE strategy which is (for me at least) very refreshing if, I suspect, wasted on a percentage of players that will buy this book and never bother with these sections. Matusow, as already mentioned, writes a very good O8 section, as do several others as they cover limit holdem, stud/stud8 and PLO in reasonable detail. Of particular use is underlining when good cash play deviates from good tournament strategy in these mixed games.
A shame that they couldn't tempt Phil Ivey into contributing a chapter or 2, but all in all, another must-have for your poker collection. Buy it, read it, understand it, use it. Enjoy!
This book is published in paperback on Jun 1st 2007 (June 30th UK). You can win a copy by entering the competition on the Mob Forum and simply guessing which of all the Full Tilt Pros will cash first in this year's WSOP.