Every Hand Revealed – Gus Hansen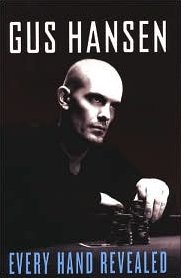 Every Hand Revealed
Author: Gus Hansen
Publisher: Lyle Stuart
Cover price: $15.95
Pages: 370
Rating: 8/10
It is undoubtedly getting harder and harder to write a top notch instructional poker book. With the pool of poker players presumably starting to shrink from the boom years, fewer and fewer people are interested in learning about starting hand requirements and abc play. The majority will have already figured that out by now, and for those that haven't, online video instruction may be a better alternative. So nowadays, an author either has to release quality material on as yet unexposed aspects of the game, or at least come in with a radically different approach than the mainstream books. This book definitely meets both criteria.
A complete review of all the hands Gus played en route to the 2007 Aussie Millions title, I would be surprised if you weren't surprised several times somewhere along the way! The book is well laid out, taking each day as a separate chapter and providing greater depth at the business end of the tournament, making the book an easy one to read. When you finish a book the day after it arrived, that's a fairly good indicator that you either have too much free time on your hands or that you really enjoyed reading the book.
Into the tournament itself and on the first day Gus donks it up beautifully! Plenty of weak-loose call-check-fold play soon costs Gus a quarter of his stack in his quest for catching a flop that he can skin someone with. He eventually gets a table move and finds his stride, handing out a lesson or two in not following convention along the way. One hand in particular hit a chord, something I've thought about in the past but never seen in writing is when you have a set v flush confrontation. Most players all spout the same line: 'I'm in front, he is going to have to pay the max for his redraw' whereas Gus lays out a convincing argument to take a different line. Chiefly, if you know exactly where they are, you forfeit that advantage when you get all the chips in.
Gus keeps a very close eye on variables such as blind levels, ante ratios, temporary short handed tables and impending breaks, mixing pure math with situational awareness to bombard opponents with relentless pressure. However, the most surprising aspect of the book for me was that actually, most of the time Gus is playing in a very straightforward manner. Yes, he has a larcenous approach to most situations, but when push comes to shove (as it usually does at a poker table) Gus will get out of the way any time he doesn't have a hand. Not very many tricky check-raises, but relatively straightforward check and fold or bet and win.
So, what to do with this new-found information? Well of course you could emulate Hansen himself and start defending your blind purely on the maths alone and stealing every pot that isn't already nailed down. Or you could use the information to play against this playing style, should you play in tournaments where you come across it. I would imagine after reading this book, most of Gus' opponents would now fear the check-raise far less than they used to. This of course may well lead Hansen to kick it up a notch and start check-raising more liberally in the future to combat this. Whatever the reason, £8 for a peek into Gus' world seems ironically like a steal!