An Alternative Vegas
First of all, anyone Vegas-bound needs to go to esta.cbp.dhs.gov as the U.S. Visa Waiver Program is changing and you will need to complete authorisation under this scheme online before you travel, effective 12th January 2009. The good news is that this will be valid for multiple entries into the U.S valid for two years at a time. I suppose it is also good news for those with a chequered history; you may as well find out in advance if they are going to let you in! But of course it will be bad news to tons of foreign poker players that don't read this and have a hard time gaining entry, although I am sure some sort of lenience/amnesty will be in place to start with.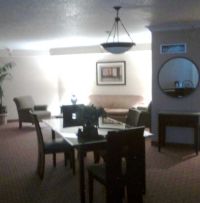 Grand Luxury Suite at Stratosphere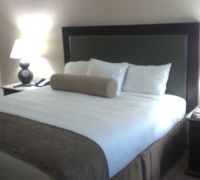 Grand Luxury Suite at Stratosphere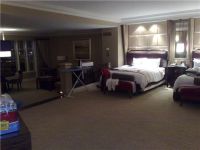 The Venetian Hotel Room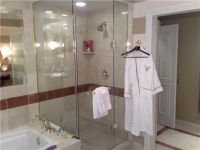 The Venetian Hotel Room
As many of you will know from the forum I am a relatively frequent visitor to Las Vegas and indeed have just got back this week from my latest trip. Times are a-changing out there and it is definitely worthwhile taking a look around before booking your usual haunt. Poker players generally loiter at opposing ends of the hotel spectrum. Some go 4 to a room for $30 a night whilst others take the poker rate on offer at the 5* hotels. I wouldn't dream of trying to talk anyone out of one of these extremes, they both make good sense for their supporters. I would say that the former group though could now be more ambitious with their choice of hotel as more and more hotels are prepared to drop into bargain-basement territory. And as for the latter, which incidentally has generally been my personal preference, some of the poker rates are being held at historic rates whilst the rest of town plummets – which means you can now consider taking a decent suite somewhere else for the same money with no playing obligation.
The one-stop-shop travel agents are always worth a look, but with websites such as www.smartervegas.com and the hotel websites themselves offering short notice bargains in particular, it is quick and painless to get a great deal, and have the flexibility to chop and change as prices move further that the travel agents don't allow. Signing many of the hotel guestbooks online will get these offers straight into your intray.
For the bargain hunters, the $40-$50 bracket that used to condemn you to a stay downtown can now find you centre strip midweek, downtown are fighting back by dropping lower still to $25 in places. The main poker hotels are slowly dropping their poker rates, getting down towards $119/$199 from the likes of $169/$259 of old. On my last trip, the prices hadn't moved in time, and that encouraged me to switch to alternative hotels that were trying far harder to get my business. I ended up taking a Grand Luxury suite in The Stratosphere which was a surprisingly good room in a predictably mediocre hotel for a bargain price of $90. Even more of a bargain when the unwary were paying slightly more for a standard room in the same hotel at the same time.
For those that stay for several weeks at a time around WSOP, the extra living space is very useful and the obligatory car hire that goes with the location will get you doing far more interesting things on days off. To put the quality of the room in perspective though, halfway through the stay The Venetian came up trumps with a $119 +$50 match play offer that saw me check out of The Stratosphere 5 days early and straight into The Venetian for the remainder. Within seconds of entering the room, memories of sandpaper towels and prison-issue soap were quickly erased as the benefits of staying in a 5* hotel room washed over me. For me at least, it isn't 'only somewhere to sleep' and all the benefits and amenities of a quality hotel do matter.
Wherever you choose to stay, whatever your selection criteria are, I hope you take advantage of the glut of fantastic offers. You certainly should be able to stay at far better for the same money, or at least at the same hotel for far less. Happy hunting.