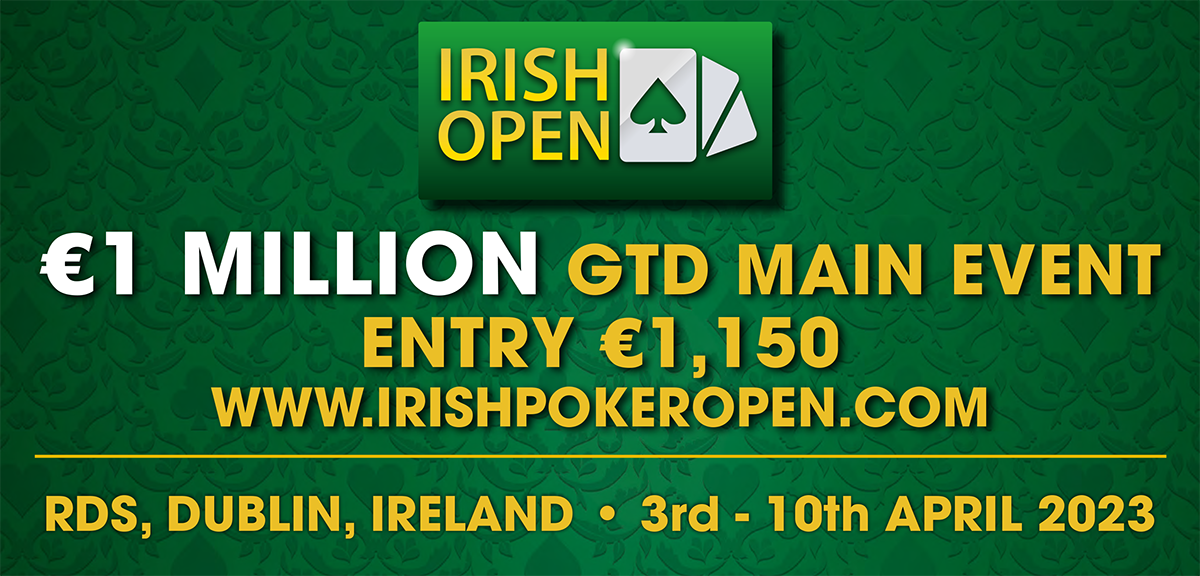 Satellite into the 2023 Irish Poker Open
The 2023 Irish Poker Open is just a month away and you can play your way into the legendary festival online. Players can satellite into the 2023 Irish Poker Open on festival partners, PokerStars, Paddy Power, and the iPoker Network. The Irish Open is set for April 3-10 at The Royal Dublin Society in Dublin, Ireland.
PokerStars is guaranteeing 23 entries to the event every single week in the lead-up to the Irish Poker Open. Every week PokerStars is running four direct satellites with buy-ins of €55 and €109 to the €1,150 buy-in Irish Poker Open Main Event.
PokerStars Irish Open Satellite Schedule
The direct satellites run every Monday, Wednesday, Friday, and Sunday on the .COM client. Mondays and Fridays feature five Seats-Only guaranteed while Wednesdays have a five Seats + Expenses guarantee. Sundays boost up to eight Seats + Expenses guaranteed. On Sunday, March 19 there will be a Mega satellite with 20 Seats + Expenses guaranteed.
Feeder satellite buy-ins begin with freebuys and move up to €1.10, €5.50, €11, and €16.50. Finish in the top spots and you'll book a seat in either a €55 or €109 direct satellite, where you'll play for a package. More details can be found here.
Paddy Power Irish Open Satellite Schedule
Paddy Power has a seat up for grabs almost every day leading up to the Irish Open.
Mini-feeders running now from just 1 cent. The full schedule of Paddy Power's satellite opportunities can be found here: promotions.paddypower.com/pp-poker-irish-open-2023
iPoker Network Satellite Schedule
The iPoker Network also has satellites running for the Irish Open. The full list of ticket satellites can be found here with key dates listed in the graphic below. Another array of full packages can be won as well. Click here for the full schedule and details.
Please visit https://irishpokeropen.com/satellites/ for a full breakdown on your path to the 2023 Irish Poker Open.