World Series Winds Up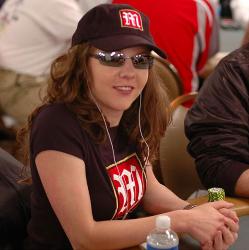 We're in the dying hours of the World Series of Poker. Play at the final table of the Main Event is well underway, and when only the last player is left standing and the new World Series Champion is decided, it will all be over for another year. It's been an amazing experience to play here again, although I have to confess I'm glad it's coming to an end ~ more than six weeks of back-to-back poker tournaments is pretty intense, and I'm coming to realise you can indeed have too much of a good thing! Overall I'm really happy with how I've done this World Series ~ four cashes worth nearly US$70,000 isn't too shabby ~ and I'm leaving Las Vegas knowing I played some pretty good poker. There were more than a few bad days though, and thinking of them makes me determined to iron out some of the more glaring flaws in my game, in the hopes of doing better the next time round. The Main Event. Photo courtesy of The Hendon Mob The Main Event was among the let-downs for me this year, both in terms of my performance (I went out early on the second day) and the experience overall. It was probably inevitable I'd be disappointed with my finish as I knew I'd have a hard time topping last year's effort, but I would have preferred to keep my dream of winning another big prize alive for a little longer than I did. What I didn't anticipate was the frustration that a very different tournament experience would bring for me this year. Some tournaments are like roller-coaster rides, filled with exciting twists and turns, adrenalin-pumping up and downs, and climactic moments when you feel like your life's on the line. Others ~ and this was one of them ~ are more like sedate country drives, with little in the way of action or drama. So while in 2005 I got off to a great start, doubling up early and winning a succession of big hands that propelled me into the top finishers, this time round I saw few big hands and never really got going, finally fizzling out before things could get interesting.
I started on the third of four Day 1 flights, one of a staggering field of 8773 players ~ around 3,000 more than the record field seen in 2005. I'd chosen the later day partly to give myself a bit of a break after the preliminary events, and partly because I could reassure myself with the knowledge that by the time I took my seat to start play, I'd already have outlasted a couple of thousand people (always a good feeling!). A look around my table was also reassuring. There was nobody I recognised among the array of nervous-looking players, half of whom were clad in the logos of the internet poker sites where they'd won their seats. I immediately noticed that I wasn't the only person in Mansion gear at the table ~ while I'd been lucky enough to be sponsored into the main event by the online gaming site, thirty-something Gary from Florida had won his seat in a Mansion satellite tournament some weeks before. He was excited to be playing in his first World Series event, and talked enthusiastically about what he'd seen of the racing pulses of poker players in the Mansion Pokerdome recording that he'd been treated to the previous night. Gary's own pulse got a workout in the first couple of hours as he picked up some big hands ~ and bigger pots ~ in some fairly loose early play at our table. I had a quiet start, winning some small pots but mainly staying out of things, and managed to finish the first level exactly where I started.
It wasn't long before the table broke and I found myself among a more challenging-looking bunch, including colourful US pro player Phil "The Unabomber" Laak, whose presence at the table had attracted one of the many camera crews that were dotted around the room. Laak was among several players at the table who had built healthy stacks in the early hours of the event, and I hoped I could join their ranks. In fact I soon started to hit some cards, picking up aces, kings and queens in quick succession, but unfortunately failed to get any action and only managed to win the blinds. Between this and a few steals though, I was able to slowly build my chips up to nearly 14,000 without showing a hand, and was feeling confident I could pick up some momentum going into the evening's play.
But then, just before the dinner break, I lost a big pot after misplaying a hand against Laak. He had been playing a fairly volatile game, pushing his chips around, and had lost a good portion of his stack, so he was clearly in the mood to gamble. With one limper in the pot, I had raised in late position with pocket eights and Laak called from the small blind. The limper followed suit, and we all saw a flop of J-7-7. Laak fired out a bet of around two thirds of the pot, the limper quickly folded, and though I felt sure I was winning I let caution get the better of me and just called instead of raising. Laak checked the queen which came on the turn but to my dismay he called my bet, and then checked again when a ten came on the river. I checked behind him and he turned over Q-2 offsuit to take the pot!
Laak's loose play meant he wouldn't manage to hang on to my chips for long, and soon afterwards he doubled up Chris Grigorian before going out of the tournament in one of the more outrageous bluffs I've seen. After a raise from the big stack on the table, he'd reraised all in and was called instantly by what turned out to be kings. "Do I have to show my cards?", asked a sheepish Laak. "I thought he was only bluffing." Yes, the dealer replied. "What say we cut the cameras then?", he looked pleadingly at the stern-looking ESPN reporter. Fat chance ~ this is what they'd been standing there all day to capture, and Laak knew it. He resignedly turned over his cards, and his 8-3 offsuit failed to save him from elimination.
Meanwhile my own dwindling stack was starting to call for more aggressive play. I notched things up a little, but missed a few flops and was bet out of several pots by the bigger stacks at the table. Down to less than 5,000, I picked up pocket queens in the big blind but faced an all-in raise from another short-stack at the table. I agonised before calling ~ I've been knocked out of no less than four tournaments this Series with queens ~ and he turned over…pocket queens! My next opportunity to pick up some chips was also thwarted, when the desperate stack to my right went all-in on the button and my pocket sevens had his fives dominated ~ until the five hit the river. I managed to survive the rest of the day by doubling up with pocket kings, but it was only enough to take me off life support. I finished up for the night with a measly 6,100, and as a bagged up my chips I couldn't help comparing this with the 45,000 I'd had at the end of the first day at last year's event. I returned to my room disheartened and fell into an exhausted sleep.
I wasn't about to give up hope though, and a couple of days later I felt rested and ready to take on the uphill task that lay ahead. I'd been following the second day's play closely, and was encouraged to see that former WSOP Champion Carlos Mortensen had started Day 2 with exactly the same chips as me and had managed to play his stack up to more than 100,000…so I knew it could be done. But I'd have to hit some hands quickly, or win a race to double up and stay in the game ~ it was all in the lap of the poker gods. I took my seat, stacked my chips, and exactly six hands later, cursed those fickle gods when my A-K didn't improve against pocket eights. The moment that poker players describe as the worst of every year had come all too soon for me, and I was out of the Big One.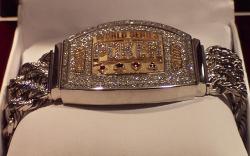 I consoled myself that I was in very good company ~ those already eliminated read like the who's who of poker ~ and threw myself into the small tournaments that follow the main event. But I spent the next few days feeling desperately jealous of those still in, and remembering the exhilaration of going deep into this marathon tournament last year: as the players dwindled, the chips stacks grew, the money bubble burst, the throngs of media multiplied, and the speculation about who would take home the title of World Series Champion mounted. As the days have passed, one by one the previous WSOP Champions fell by the wayside, with last year's winner Joe Hachem the last to go. It wasn't long before the last of the women remaining in the event were out too, with tournament newcomer Sabyl Cohen taking the honours as the highest woman finisher, ahead of veteran Annie Duke. And before you knew it ~ and in fact well ahead of schedule following some fast and furious play ~ we were down to the final table. They're playing it as I write this, and with each hand that's played, the chip leader for the last few days, Jamie Gold, tightens his grip on the lead. But with this game, it's never over till it's over, and with the likes of four- time WSOP bracelet winner Allen Cunningham still in contention, the betting on who will take home the bracelet has been fierce. Whoever it is will also win a record $12 million first prize, but all at the final are already millionaires.
What a game. I for one will be back again next year to try my luck. The lure of an elusive bracelet is too hard to resist.