Three Final Tables
This week was one for the Aussies here at the World Series of Poker, with no less than three consecutive final tables featuring an Australian player. Not bad for a place with a population a fraction the size of the US, and a sign that both established pros and up-and-coming players from 'Down Under' are capable of again making their mark in the toughest tournaments in the world. I also added my own (much more modest) win to the week's list of cashes, scraping into the money for a second time this Series.
First up we saw reigning WSOP Champion Joe Hachem manage to outlast more than 800 players to make the final table in Event 5, the $2,500 Short-Handed No Limit Holdem. Joe spent much of the latter part of the event as a relatively short stack and made a heroic comeback to beat the likes of Daniel Negreanu (who was chip leader for most of the tournament) to the final six. He eventually finished as runner-up, and if not for some bad luck on the final hand ~ Joe went all in as a huge favourite with A-Q against Dutch Boyd's A-5, but a 5 came on the river ~ he could well have gone on to win the event. As it was he took home more than a quarter of a million dollars for his second place finish, an achievement which shows that Hachem's win last year was no fluke.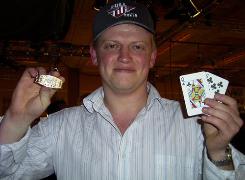 The next day's tournament featured an even more impressive finish, with young Australian pro Mark Vos besting a field of nearly 2,000 to win Event 6, the $2,000 No Limit Holdem. Mark is fresh from some notable wins in Paris, London and Australia, and combined his top notch game with a bit of luck to overcome final table players including 2001 WSOP champion Carlos Mortensen and 2006 WPT Bay 101 winner Nam Le. Mark will take home his first WSOP bracelet, along with more than $800,000, the biggest prize so far in this year's World Series.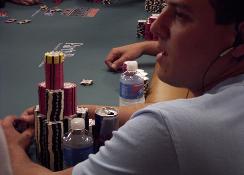 The following day, Australian-born Jeff Lisandro made it a final table hat trick for Australia in the $3,000 Limit Holdem event.
Jeff survived a 415-strong field to head into the final table fourth in chips, but his flopped set of threes didn't hold up against
Rich Zhu's nut flush draw, which hit on the turn. He was eliminated in 9th place, earning $23,000 for his efforts.
By comparison to these impressive achievements, my own small win in the Limit Holdem event barely rates a mention….
but I'm going to tell you about it anyway. My tournament started out slowly, and I was enjoying the limit structure ~ playing more hands and seeing more flops, without having to face the constant prospect of an all-in reraise. This helped to ease the stress of playing against Phil Ivey, who was a few seats to my left, and I managed to beat him out of a small pot in early play. It wasn't long before he won his chips back though, along with what seemed like most of everyone else at the table's chips too ~ in fact Ivey quickly accumulated a stack of more than 15,000, raising every other pot and barely showing a hand.
I hovered around the original starting stack of 3,000 until into the 5th level, when our table broke and I escaped to a somewhat easier lineup. While I won a few pots here and there though, I stayed short-stacked until well after the dinner break, surviving two all-ins to inch up to 4,700. With blinds at 300-600, I was facing elimination unless I could take down a pot or two ~ and that's when the deck just hit me in the face. I picked up aces three times and kings twice in the space of less than two rounds, and got paid off each time ~ once eliminating a short-stacked Daniel Negreanu. I then flopped a set which filled up on the river, and again won a huge pot which put me at nearly 25,000 (comfortably above average) heading into the final level of the day.
With 60 players left and 45 being paid I could have just cruised through to the next day and still stayed ahead of the field…but instead I ran into one of the more horrible hands of my poker playing career, and lost most of my chips in a huge pot. The action had been folded around to me on the button and I looked down to find A-Q, so I raised. Jim Bechtel folded in the small blind, but Jordan Rich in the big blind re-raised me, and then quickly called my re-raise. He then check raised me on a flop of A-J-rag and called my re-raise, and bet the
turn after a blank came and called my raise ~ by which time I was beginning to worry that he may have had me beat. When the river came a jack though, I knew I was done for. He bet out, I called, and he turned over…
J-7 offsuit. I felt sick.
I was crippled after this and struggled to make it through the few remaining players left before the prizemoney kicked in. As it happened I busted out right on the bubble with pocket queens all in against four other players, one of whom paired their king. However with the WSOP's new 'round-for-round' rule replacing the standard hand-for-hand play that takes place at every event bubble, I still managed to scrape into the money, sharing 45th place with Michele Lewis who was also eliminated during the round. Annoyingly the shared prize amounted to less than the event buy in ~ so I still managed to come out in the red. I guess it's better than nothing, but after 13 hours of play it somehow didn't feel that way.
The fantastic results of my fellow countrymen this week are enough to keep me inspired though. Here's hoping for a few more Aussie final tables and bracelets this WSOP. So far, so good.